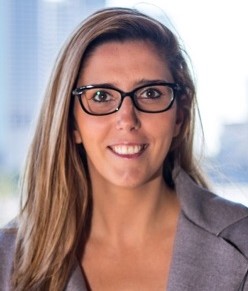 B Psych, M Science (Organisational Psychology).
I studied psychology in my home country of France, and am able to provide counselling and therapy in both English and French.
Because I believe there is a strong connection between mind, body and spirit, I take a holistic approach to therapy with my clients.
My goal as a counsellor is to help my clients to get what they want, both in their personal and professional lives. Think of me as the cheerleader on the sidelines, who is ready to motivate you and help you overcome the barriers that may be standing in the way of achieving your goals.
I am passionate about the importance of work in our life, and how it impacts our identity and motivation in all area of our lives. Finding a fulfilling career and who we are as a person are the two biggest missions for most of my clients. With the influence of social media, it can be overwhelming for some of us when we cannot figure out all of those questions.
A psychologist or counsellor is not here to find the answers for you, but to help you to bring to light your own strengths and what you can achieve. Part of this is identifying together what's important for you, and what your goals are. Everyone is different so what's important for one person might be not for someone else. If you don't know what is important for you, do not panic! That's my role to help you with this process.
Counselling for Children & Adults
While I see children as well as adults, I am particularly interested in working with people experiencing difficulties or concerns such as:
Lifestyle/changing habits;
Burnout;
Self-confidence/self-esteem;
Transitions;
Workplace stress/bullying;
Anxiety;
Relationships;
Career guidance for young people;
Motivation and resilience;
Expatriation.
Previously, I have worked with children, expats, and also with companies wanting to provide support to their employees, to prevent stress and burnout in the workplace.
In therapy, I use different approaches such as Cognitive Behavioural Therapy (CBT), relaxation strategies, Mindfulness, and Acceptance and Commitment Therapy (ACT).
CBT: is a short-term therapy technique that can help you to find new ways to behave by changing old patterns. It can help to reduce stress, improve coping with complicated relationships, and also with facing a range of other life challenges.
Relaxation Strategies: are useful to create a better connection between your body and your mind.
ACT: The main idea is to help you choose the best and most effective option as defined by your values, in the presence of difficult or disruptive events.
Whether you are facing challenges in your professional or personal life, I would love to help you through this situation by giving you some psychological principles and tools to help you find success.
To make an appointment try Online Booking. Alternatively, you can call Vision Psychology Brisbane on (07) 3088 5422.
Articles of Interest by Ana Salido: