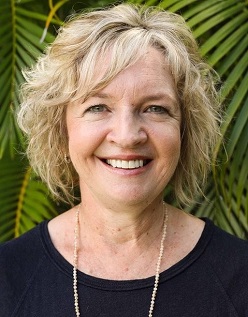 B Soc Sc, Major in Counselling; Member of PACFA and CCAA.
Fiona is registered with the following private health funds: Bupa, Medibank, ARHG, AHM. Availability of rebates dependent on clients' coverage.
Telehealth Counselling:  Fiona Muller is able to provide counselling to clients via Skype in certain circumstances. To make an appointment for telehealth counselling, try Online Booking or call Vision Psychology Brisbane on (07) 3088 5422.
Fiona's profession as a registered counsellor has seen her work with both individuals and couples.
Fiona's heart is for each person to live a life full of hope and purpose, and to provide them with tools for healthy relationships, and a safe space to explore how to restore balance throughout the challenges of life.
Fiona has previously worked with women's groups, aged care, child care, pre-marriage counselling and community outreach programs. Fiona has been married for 27 years now with two young adults. Her own experiences have given her a greater understanding and empathy of the many challenges and losses that life brings.
Counselling Approach
As an integrated therapist, Fiona has adopted a holistic approach, encompassing a person's psychological, social, physical and spiritual aspect of self.
Her therapeutic toolbox includes evidence-based interventions such as:
ACT – Acceptance and Commitment Therapy uses four principles known as mindfulness. The aim is psychological flexibility, "the ability to adapt to a situation with awareness, openness and focus and to take effective action, guided by your values" (Harris, 2008, p. 35)
Using mindfulness Fiona has helped clients with emotional regulation, anxiety and stress. It will help you to take control of your attention and thoughts, so that your emotions don't have to control your behaviour.
CBT – Cognitive Behavioural Therapy is a type of psychotherapy that helps the person to change unhelpful or unhealthy habits of thinking, feeling and behaving. CBT involves the use of practical self-help strategies, which are designed to affect positive and immediate changes in the person's quality of life.
Psycho Education– Fiona believes to name and categorise your experience can bring about a developmental change. "The overwhelming emotional and psychological experiences that sometimes bring a client to therapy are made more manageable when named, owned, understood and accepted" (Lapworth & Sills, 2010, p. 150).
Solution Focused, Strength Based Approach – Fiona has used various types of questions to help assist a client to notice and understand the issue, and consider alternative courses of action. Fiona would identify your strengths to help you develop healthy coping strategies, by building on your existing strengths and resources.
Self-Care Theory – Self-care is the ability to find balance within the psychological, social, physical and spiritual aspects of your life, for your own health and wellbeing, and the health of your relationships.
Prepare Enrich / Marriage Counselling – Fiona helps to assist couples become aware of areas in their relationship that they are strong, and areas where they need growth, guiding them as they build on and learn new relationship skills. 
While tailoring therapy to meet the individual's needs, Fiona can assist with issues such as:
Stress – When a client presents with stress in their lives, often caused through multiple avenues, Fiona will work with you to identify the cause, apply healthy boundaries and the use of Self-Care strategies. Some people think Self-Care is a selfish thing, however Fiona believes without having time for Self-Care, your capacity to handle life's difficulties is diminished in many areas of your life.
Anxiety – Anxiety can present itself in many different forms, from psychological, physical, social or spiritual. Fiona will work with you to reduce anxiety levels using various tools and strategies.
 Depression Management – Loneliness and isolation can inhibit a person's ability to grow and heal, as each person was created for relationship. This is why the therapeutic relationship is a vital part of the healing process for many clients.
Grief and Loss – Incomplete recovery from grief and loss can have a lifelong negative effect on a person's capacity for happiness. Fiona will journey with you through your grief using specific actions to move beyond your loss.
Relationships – Fiona has worked with many couples to find new ways of connection, communication and healthy boundaries. Fiona will help you to identify growth areas in your relationship to expand and challenge your thinking, to make your relationships great.
Intimacy Issues – The goal is to build healthy relationships and to keep love and intimacy alive in your committed relationship. Intimacy can often elude couples, therefore Fiona will work with couples to identify areas that will increase intimacy  – emotionally, physically, mentally and spiritually. The caring touch of another human being is a need that should not be ignored.
Faith Based Counselling – The goal is emotionally healthy spirituality. Spiritual and religious matters can be relevant for clients and potentially significant topics during the counselling process. The emphasis is always on what the client wants and needs, and their individual belief system will be respected at all times.
Understanding Patterns and Behaviours – Through an exploration of self, a client may have the ability to learn acceptance, forgiveness, take responsibility, discern true and false guilt, enabling them to let go of self-destructive patterns of thinking, feeling and acting.
Burnout – Burnout is a state of mental, physical and spiritual exhaustion that leaves its victims with no energy and no hope. However, Fiona works with clients to help them beat burnout through defining the problem, discussing signs, symptoms and treatment, to find permanent solutions.
Fiona believes that gaining insight and truth is the pivotal key to change. As a professional counsellor, Fiona's desire is for individuals or couples to find meaning and hope, and be equipped and empowered with tools for positive growth and lasting change.
To make an appointment try Online Booking. Alternatively, you can call Vision Psychology Brisbane on (07) 3088 5422.
Articles of Interest by Fiona Muller