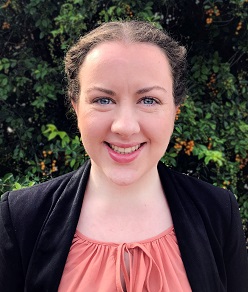 Hannah Jensen-Fielding,
BA (Psychology) Hons, M Couns., PhD Candidate.
Hi, I'm Hannah! I'm passionate about helping individuals of all ages reach their potential in all aspects of life. I have completed a Master of Counselling at the University of Queensland and am currently completing my PhD focusing on older adults. These qualifications have given me a broad introduction to the variety of challenges individuals face at different stages of life. Furthermore, they have formed my belief that it is important to help individuals wherever they are at, meeting them in their current situation.
Youth Leadership Experience
I have 10 years' experience being involved in leadership roles in a variety of youth groups, working with young people in groups and in a one-on-one manner. I worked with youth from many different backgrounds including Indigenous Australian and Torres Strait Islander. My role was to help the young people navigate the challenges of being a teenager and encourage them to be the best they can be.
A secondary aspect of my role as a youth leader was being exposed to the challenges young adults face as they begin to navigate their independence and make choices impacting their long-term future. It also helped me understand the difficulty of being in a leadership role when you are trying to figure out your own future.
Career Experience
My greatest passion in life is helping others reach their potential, and a key component of that is helping others find a career which is fulfilling for them.
My personal experience of finding a career that was rewarding and enjoyable led me from starting university to do a Bachelor of Science/Bachelor of Business Management to completely changing direction to become a counsellor. As a result, I personally know what it's like to think you are following a specific career path, and for many different reasons and circumstances, end up pursuing a very different one.
DrugArm Counselling
I completed part of my placement at Drug ARM, a service focused on helping individuals work through alcohol and other drug addictions. Drug ARM's emphasis on non-judgement and harm minimization strengthened my belief of helping individuals from where they are and small steps in changing your life can make a huge difference. Often clients were dealing with multiple addictions which were carefully managed to reduce any harmful consequences of reducing drug use. 
CityCare Counselling
I coordinated the counselling service for the Brisbane arm of CityCare counselling and later completed placement here as well. As a faith-based service, many clients were working through finding their purpose in the context of their faith. My clients were primarily females between 20-40 years and at very different life stages. I learned to be flexible in my approach and open to what the client brings, as this service does not focus on any life or mental health challenge.
Today, my areas of focus include:
Relationship Counselling – Sometimes in life we face challenges in our relationships with a significant other or with a family member. Relationship counselling provides an opportunity to work through these challenges in a safe place.
Alcohol and Other Drugs Counselling – There are many substances which an individual could become addicted to. Some of the most well-known drugs are alcohol, cigarettes, and illicit ones such as ecstasy. Less known are addictions to your prescriptive drugs because they are not illicit. Counselling can help you work through the addictions and reduce any harmful side effects.
Addictions – There are many other forms of addictions than alcohol and other drugs. Common ones are gambling, shopping, video games, social media, sex, internet, and even work. While these can sometimes play a positive role in our lives, with addiction these behaviours can take over, negatively impacting your life. Like with alcohol and other drugs, counselling can help you work through the addictions and reduce any negative impacts.
Grief and Loss – Counselling can help you walk through the grief and loss and find a new normal, if you've lost someone or something which meant a lot to you. It could be a family member, friend or a pet; or your job, your home or even losing the ability to walk.
Depression – We can sometimes feel down, like there is a heaviness in our chest which we cannot get rid of. Sometimes this heaviness can manifest as no longer caring about anything. Though this feeling can occur to anyone, some individuals feel it for longer and further support is needed to help them through it.
Anxiety – There can be many reasons in life why we might be concerned and worry about something. This is anxiety and it can serve a purpose be encouraging us to be prepared for situations which might negatively impact us. Unfortunately, the worry and concern can grow to being out of proportion to any consequences. When this occurs, the anxiety can interfere with your life and support from a counsellor might be needed to reduce the anxiety.
Self-harm and Suicidal Ideation – There can be situations in life where we feel everything is out of control. In response we look for a way to have some aspect of control, or even wanting to find a way to escape. Some people choose self-harm and suicidal ideation. While these options might appear good in the short term, they cause harm in the long run, both to the individual and to their loved ones. Please contact a counsellor, psychologist or your GP as soon as possible if you find yourself thinking about these options.
Faith based Counselling – Faith can be a significant part of someone's life regardless of religion or belief. The faith journey can be challenging though, and it can useful to talk to someone about it. Talking to a counsellor can provide a safe space to work through the challenges and grow your faith.
Career Counselling – Choosing a first career can be bewildering and choosing a second career can be daunting. Counselling can help you find a career which is both fulfilling and meets your financial needs.
Life Transition – There are many events in life which signify us moving to a new stage. Well-known ones include becoming an adult, having children, and even choosing to retire. The excitement with these transitions can be accompanied by fears about moving on to the next stage. A counsellor can help you make these transitions more smoothly.
Cognitive Decline – With ageing comes cognitive concerns such as your memory not working as well as it used to. For a small number of individuals these concerns can be signs of something more sinister but for many more, making life style adjustments can reduce the impact of ageing on the brain. Counselling can help you identify these changes and put them intro practise.
Strengths-Based Approach
I am a strengths-based integrative practitioner, and firmly believe that no one approach suits all clients or challenges. The counselling experience must be designed specifically for the individual.
Working from a strengths base helps me work with individuals as they become who they want to be, rather than focusing on reducing who they don't want to be. It is founded on my belief that you gain more momentum looking forward at the future and who we can become. Some of the therapies I use as part of my integrative approach are listed below:
Cognitive behavioural therapy (CBT) – The term CBT covers a collection of therapies which examine our thinking and behaviours and then help individuals change any thoughts and behaviours which are maladaptive. These therapies are structured, goal oriented and require the client to be actively involved.
Acceptance and commitment therapy (ACT) – ACT is a specific therapy focused on helping individuals live more aligned with their values while accepting that life can have difficulties. As part of this process ACT helps the individual become more mindful of the present moment rather than being focused on the past or future.
Behavioural Therapy – Like CBT, behavioural therapy is an umbrella referring to multiple therapies. Unlike CBT, behavioural therapies focus only on unhelpful behaviours rather than unhelpful thoughts. These approaches often examine rewards and punishment, as well as reducing what is reinforcing the behaviour.
Emotionally Focused Couples Therapy (EFCT) – EFCT is an empirically proven couples therapy focused on the attachment/bonding between the couple. The attachment/bonding can result in a negative pattern of behaviour which stays reasonably consistent regardless of the situation. By examining the attachment and then restructuring the pattern of behaviour to be more positive.
Narrative Therapy – Narrative therapy is an approach where the client is viewed as the expert of their life and their story. A counsellor's role is to collaborate with the client to help the client separate their life challenges from themselves, and help them reframe their life in a way which provides the client with more control of their story.
Solution-Focused Brief Therapy (SFBT) – SFBT is a goal directed therapy focused on helping clients see what life might be like without the challenge, and then helping them live as closely to that as possible. This therapy often requires fewer sessions than others due to its focus on the future and emphasis on being brief.
To make an appointment try Online Booking. Alternatively, you can call Vision Psychology Brisbane on (07) 3088 5422.
Articles of Interest by Hannah Jensen-Fielding:
Publications
Jensen-Fielding, H (in press). Cognitive-Behavioral Therapy. In D. Gu & M.E. Dupre (Eds.), Encyclopedia of Gerontology and Population Aging. Singapore: Springer.
Jensen-Fielding, H (in press). Buffering Hypothesis. In D. Gu & M.E. Dupre (Eds.), Encyclopedia of Gerontology and Population Aging. Singapore: Springer.
Jensen-Fielding, H., Luck, C. C., & Lipp, O, V. (2017): Is the devil in the detail? Evidence for S-S learning after unconditional stimulus revaluation in human evaluative conditioning under a broader set of experimental conditions, Cognition and Emotion, DOI: 10.1080/02699931.2017.1408573