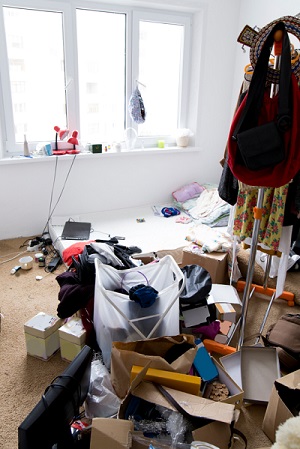 The over-collection and keeping of possessions is referred to as hoarding.  
About 2-5% of our community will have difficulties in clearing the possessions that have over-filled the halls and walls of their home.  There is a significant risk of mental health conditions like anxiety and depression that may occur alongside physical health conditions when crowded in by possessions.  These health conditions may be in part a symptom of living in these conditions, or  hoarding behaviours may cause the problem to continue.
When does the amount of clutter become a problem?  This picture is an example of having too much in your home.  If you cannot easily walk through the hall or your room, then it is also a safety hazard. The problem may cause a delayed escape if there was a fire, or more commonly the clutter is a trip hazard.   The build up of mould, dust and vermin such as rodents and cockroaches may also become a serious health problem, which increases as the level of hoarding increases.
We have a number of psychologists who can provide services to individuals and the families of those struggling with hoarding and squalor.
Helpful Links to community help:
If you would like our client services manager to contact you please fill in the form below. If you are enquiring about mobile psychology services, then please provide details of the suburb so can address your enquiry quickly.
SEND US A MESSAGE