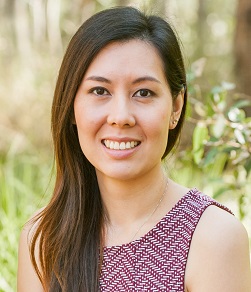 Katherine Vuong,
B Beh Sc (Hons), MAPS.
Hi! I am a psychologist with a passion for helping people improve their mental health and wellbeing. I aim to provide a safe place for people to feel heard in a non-blaming, non-stigmatising environment, and welcome clients from different cultural, spiritual and religious backgrounds.
Adult Mental Health and Wellbeing
I particularly enjoy working with young adults, and have a keen interest in treating depression and anxiety. I can also help with a variety of issues, including:
Grief and loss
Self-esteem
Assertiveness
Stress management
Motivation and procrastination problems
Interpersonal difficulties
Life transitions such as career changes, moving to a new city, or becoming a parent
NB. I am currently unable to see couples and children.
Counselling for Cultural Stress
I was born and raised in Australia, and of Vietnamese ancestry. Growing up in a family that endorsed traditional Vietnamese values, I have a unique understanding of some of the challenges people may face from identifying with multiple cultures. As such, I enjoy helping people who are experiencing familial conflict due to differences in beliefs and practices, as well as acculturative stress and social isolation.
What To Expect From Therapy
I believe that it is important to find a therapist whom you can trust and feel comfortable with. The first session is really for us to get to know each other, and for me to develop a good understanding of your concerns and needs. My therapeutic work is guided by collaborative formulation. Through the combination of my psychological knowledge and your self-knowledge, we will make sense of what has led to your difficulties developing and being maintained in the context of your relationships, social circumstances, and life events. This information will be used to develop mutual goals and help with treatment planning.
My Therapeutic Approach
My approach is informed by psychological theories, evidence-base, your formulation and preferences. I also find it helpful to know if particular interventions or strategies have helped in the past. The therapeutic model I frequently use is Cognitive Behaviour Therapy (CBT), which generally involves the practice of learned skills outside of sessions to help promote skill generalisation. I also draw upon theories and techniques from other therapies to address individual needs such as Acceptance and Commitment Therapy (ACT), Interpersonal Psychotherapy (IPT), Motivational Interviewing, and Dialectical Behaviour Therapy (DBT).
To make an appointment try Online Booking. Alternatively, you can call Vision Psychology Brisbane on (07) 3088 5422.
Articles of interest by Brisbane Psychologist Katherine Vuong: