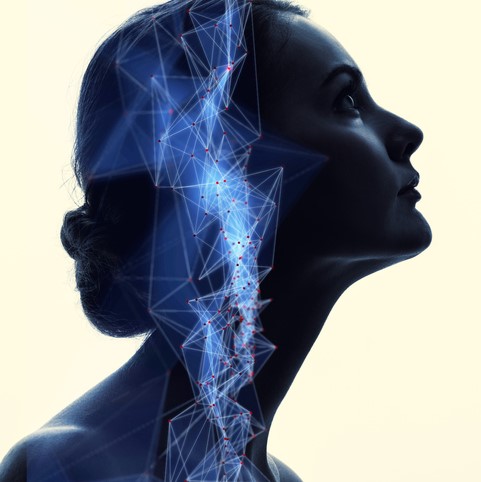 Talking changes the brain:
the benefits of talking to a counselling therapist.
People often ask me, "How can talking to a counsellor help?" or "What is the difference between talking to a counsellor and talking to my best friend, partner etc?"
I have also often heard the statement: "Talking isn't going to change anything". Unbeknown to most of us, this statement could not be further from the truth because:
Talking changes the brain!
Neuroscience tells us that our brains are highly attuned to and responsive to both verbal and non-verbal interpersonal interactions, that the human brain is wired to search for and connect to other brains. Non-verbal communication includes things like body language and facial expressions and is a very powerful conveyor of how others see us.
Our brains are highly responsive and adaptive to both our internal and external environments. Essentially, this is how we learn about our world and how we should respond to it in the future.
What this means is, every time we learn something new, additional neural pathways are created and mapped into our brains. Consequently, each of our brain pathways is coded to a very specific learning event and is programmed to become activated when similar events are encountered in the future.
This very clever feature allows us to respond rapidly to situations with little thought. Eventually, our responses become learned and predominantly driven by unconscious processes which usually works for us … well, most of the time.
However,
when learned responses to situations are maladaptive (in that they are unhelpful to our survival), they eventually lead us to harbour unhelpful negative automatic thoughts about ourselves, others, and our world.
These negative automatic thoughts can impact our emotional, physical and behavioural lives. For example, individuals who experience anxiety often describe emotions such as worry and fear; physical symptoms such as headaches, tight neck, shoulder tension, and insomnia; and avoidant behavioural responses such as socially isolating, or excessive substance use.
So Let's Talk Counselling and How it Can Help
But how exactly can talking to a therapist help me alleviate my troubles?
Under conditions such as those experienced in the therapeutic space, whereby the therapist offers clients unconditional positive regard, empathy and authenticity, talking can positively rewire the brain. It is the therapist's role to stimulate adaptive, healthy patterns of neuronal activation in their client.
One-to-one attuned communication through verbal and non-verbal behaviours such as eye contact, reflective comment, empathy, and perceiving expressions, create internal states within the therapist that resonate with the client.
In fact, therapist empathy is also believed to create adaptive patterns of neural activation in the client. This client-therapist interaction has the capacity to alter physiological, mood, and intentional states.
Within the therapeutic environment, talking has the power to stimulate more helpful patterns of brain functioning by creating new neural pathways. These new more adaptive brain pathways are able to circumvent the maladaptive pathways that are responsible for maintaining:
dysfunction;
suffering;
negative thought processes and ruminations;
negative self-talk;
negative self-image.
The Change Mechanisms associated with Talking
When we talk in counselling, it promotes:
Narrative reflection (reflecting on what one says), which enables individuals to consciously identify any maladaptive thoughts, behaviours and responses that are helping to maintain their difficulties, and also offers them the opportunity to decide if they want to try and change these processes.
The integration of both hemispheres of the brain. The left hemisphere is predominantly logic seeking, sequential, concrete and narrow focused, while the right hemisphere is predominantly holistic, creative, emotion detecting and autobiographical. Integrating these two hemispheres enhances a person's ability to view their life story holistically, in context, and in an organised way.
Healthy attachment styles. The clear, organised narratives of parents have been demonstrated to enrich adaptive attachments in their children. Similarly, it is thought that the coherent narratives of the therapist may also enhance healthy attachment styles in their clients.
Positive outcomes. Specifically, the right neural hemisphere, the limbic system (our emotional centre), and the mirror neuron system (a system that mirrors the mood and behavioural states we observe in others) are brain regions that are associated with positive outcomes in therapy.
Talking in an intentional way and being guided by an expert therapist allows clients the space to reflect on their life stories, while experiencing their therapists' empathetic states.  This offers each client an opportunity to rewire their thought patterns as they go through their narrative.
This style of intentional, empathetic conversing and reflection is generally not the conversational format that most of us experience in our family and friend relationships. That's not to say that these relationships and interpersonal support structures aren't incredibly powerful and necessary; we need a rich tapestry of family and friends.
However, the nature of the therapeutic conversation differs significantly from those we share with our loved ones.
Author: Dr Nicole Hess, B Psych (Hons), MPPSY, PhD.
Having recently completed a Master of Professional Psychology (MPPSY), Nicole Hess is trained to provide psychological assessment and evidence-based therapies. She works with children, adolescents and adults in individual therapy.
To make an appointment try Online Booking. Alternatively, you can call Vision Psychology Brisbane on (07) 3088 5422 or M1 Psychology on (07) 3067 9129.
References:
Cozolino, L. (2002). The neuroscience of psychotherapy: building and rebuilding the human brain (norton series on interpersonal neurobiology): WW Norton & Company.
Gallese, V. (2003). The roots of empathy: the shared manifold hypothesis and the neural basis of intersubjectivity. Psychopathology, 36(4), 171-180.
Goldfried, M. R. (2010). The future of psychotherapy integration: Closing the gap between research and practice. Journal of Psychotherapy Integration, 20(4), 386.
Grawe, K. (2017). Neuropsychotherapy: how the neurosciences inform effective psychotherapy.
Rogers, C. R. (1957). The necessary and sufficient conditions of therapeutic personality change. Journal of consulting psychology, 21(2), 95.
Siegel Daniel, J. (1999). The developing mind: Toward a neurobiology of interpersonal experience: New York: Guilford Press.
Siegel, D. J. (2001). Toward an interpersonal neurobiology of the developing mind: Attachment relationships,"mindsight," and neural integration. Infant Mental Health Journal: Official Publication of The World Association for Infant Mental Health, 22(1?2), 67-94.
Siegel, D. J. (2006). An interpersonal neurobiology approach to psychotherapy. Psychiatric Annals, 36(4).
Siegel, D. J. (2010). The mindful therapist: A clinician's guide to mindsight and neural integration: WW Norton & Company.