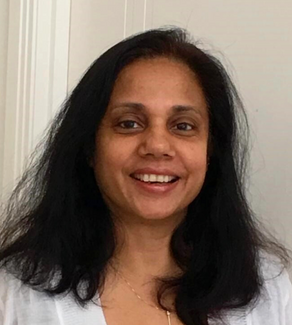 M. Counselling. PACFA.
I am a counsellor who uses a holistic approach to healing, as I believe that we are multidimensional (Bio-Psycho-Social-Spiritual) beings. I explore not only the mind-body connection but also social and spiritual aspects of how they are interlinked and impact each person. My speciality is working with people who have experienced trauma in their lives, be it childhood neglect to complex PTSD. It is evidenced in research that trauma continues to live in the body long after the event. That is why people suddenly get triggered long after an event, yes even the ones we thought we had forgotten! I work with people at a deeper level, which is the nervous system to help resolve trauma. I equip my clients with knowledge, which empowers them to understand and change their current circumstances by providing psychoeducation. I am passionate about helping people make their unconscious conscious, and thereby promoting self-awareness which enables growth towards their destiny.
To make an appointment with Tanya Rodrigo please go to Online Booking call Vision Psychology Brisbane on (07) 3088 5422 or M1 Psychology Loganholme on (07) 3067 9129.
I primarily work with adults and am interested in working with people experiencing a range of concerns including:
Trauma – PTSD and complex trauma

Anxiety

Depression

Narcissistic Abuse

Self-confidence

Grief & Loss

Life Transitions (divorce, retirement etc)

Stress Management

Addictions
My experience includes working in organisations such as a community neighbourhood centre, a higher educational institution and a not-for-profit.
I am a trauma-informed therapist and use different strategies according to my client's needs. I am trained to select the best strategy that suits my client's circumstances. I use evidence-based approaches such as Person Centred Therapy (PCT), cognitive behavioural therapy (CBT), Solution Focussed Brief Therapy (SFBT) and Expressive Therapy. I also teach mindful practices to my clients. Research has proven that mindful practices reduce stress, rumination and emotional reactivity and improve memory.
CBT – Cognitive behavioural therapy (CBT) is an evidence-based form of therapy that is commonly used in psychological treatment for anxiety, depression, phobias and addictions to name a few. CBT focuses on changing your automatic negative thoughts which contribute to emotional difficulties. This therapeutic method examines faulty thoughts, beliefs and feelings and by changing these, helps change behaviours.
PCT – Person Centred Therapy is a nondirective and empathic approach to therapy, which empowers you to reach your highest potential and helps you find solutions to your issues. It is often viewed as a therapeutic approach that is more suitable for Individualistic cultures.
Trauma Informed Care – The aim is to regain your power and self-worth by navigating through your trauma safely and reaching a safe place without getting re-traumatised. When working with traumatic events your emotional, psychological and physical safety is of utmost importance. You will find it a collaborative journey and will be supported to make decisions and choices that are congruent with your values.
SFBT – Solution Focused Brief Therapy as the name suggests is focused on finding solutions rather than delving into the past and its problem(s). It is future-oriented and incorporates positive psychology practices.
Expressive Therapy – uses a multimodal approach to self-discovery and healing through art, movement, roleplay, writing and music. It is suitable for children, adolescents and adults. When experiencing mental health problems, it may sometimes be difficult to express feelings in words, hence expressive therapies become a vehicle for communicating such difficulties.
A bit about myself, I was born in Sri Lanka and have lived in Jamaica (West Indies) and the Maldives and subsequently migrated to Australia. I speak fluently in both English and Sinhala languages. I have counselled clients from individualistic and collectivistic cultures and worked across multiple ethnicities and religions. I enjoy travelling to other countries. I am also a passionate dog lover and an artist. Where appropriate I use creative art in therapy sessions.
I offer a gentle, warm and sensitive space for you to process your concerns and work through those challenges/issues to live a more fulfilled life.
To make an appointment please go to Online Booking or call Vision Psychology Brisbane on (07) 3088 5422 or M1 Psychology Loganholme on (07) 3067 9129.