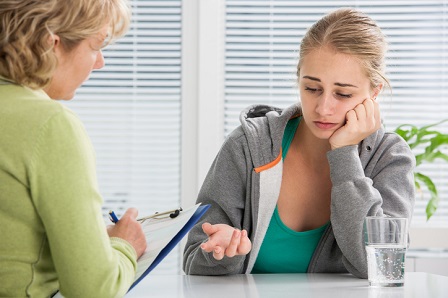 Some time ago, I read a book called 'How Doctors Think' by Jerome Groopman.
The book describes warning signs of erroneous medical thinking, and how accurate diagnoses can be hindered. Reading this book made me think about the psychology profession, and how therapists can often make similar mistakes.
Physical or Psychological Condition?
Although clients access our services for mental health care, there is a real possibility that what seems to be a psychological problem could actually be a physical one.
Untangling cause and effect can be difficult, especially when there are many medical illnesses that can masquerade as, or contribute to, psychological conditions. For example, symptoms of hyperthyroidism such as nervousness, a rapid heartbeat, and increased sweating can seem like anxiety. Symptoms of polycystic ovarian syndrome such as increased fatigue/low energy, and appetite/weight changes, can appear to be depression. Conditions such as sleep apnea, depression and anemia, can also mimic depression.
To add to this challenge, many medications can cause side effects which contribute to mood changes.
In order to get the best possible evaluation, there are a number of things you can do to help you and your therapist make better judgements together:
Retelling your story – about how you felt, how it happened, and when it happened. This may help you to recall something important that you forgot to share, and it can also help your therapist register a vital bit of information that was overlooked the first time or had seemed unimportant.
Allowing for an open discussion which may include your childhood experiences. When seeing your therapist for the first time, you may decide to make a list of the things you want to talk about. Although this can be helpful, there is a risk that the therapist will not ask questions that will yield the most information because they are focused on the concerns you have brought in. Additionally, an event during your childhood may seem unimportant to you as an adult, but may have been significant for you as a child, or any child for that matter. Limiting the topics discussed may hinder a thorough evaluation.
Mentioning something even if you are unsure whether it is relevant or not. Especially in the beginning, you may be unsure whether something is important and/or are afraid of wasting your therapist's time. But, it could turn out to be the most important piece of information in helping to confirm or disconfirm your diagnosis.
If you've been given a diagnosis that doesn't seem to quite fit, ask further questions. For example – "What else could it be?", "Is there a medical problem that shares the same acute symptoms?", "Is there anything that doesn't fit?", "Do the symptoms readily suggest the diagnosis?", "Is it possible I have more than one problem?". These are key questions that can help to reduce bias and help your therapist think better.
In summary, I felt that the take home message from the book was that communication is the key to successful diagnosis of complex health conditions. As a clinician, I am far more mindful to ask more details about experiences, and I encourage my clients to question their symptoms.
Author: Katherine Vuong, B Beh Sc (Hons), MAPS.
Please Note: Katherine Vuong is not currently practising at Vision Psychology, however if  you call us on (07) 3088 5422 we would be happy to suggest another therapist at our practice with experience in this area.
References:
How Doctors Think by Jerome Groopman