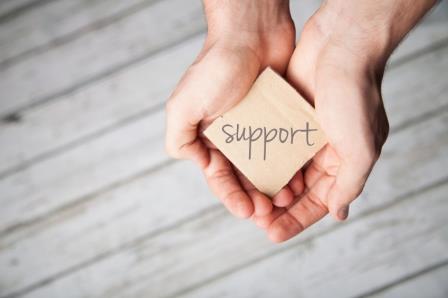 Mental illnesses affect a person's mood, thoughts and behaviours. When someone close to you is diagnosed with a mental illness it can be confusing and distressing for both you and your loved one. It is normal to experience a flood of emotions such as guilt, shame, anger, fear or grief or to feel unsure or concerned about your loved one's future. It is important to remember that mental illnesses are treatable and your loved one can go on to live a full and rewarding life.
How can I support my loved one?
It can be hard to know what to do when supporting someone with a mental illness but there is no 'one size fits all' model. How you care for your loved one will depend on the diagnosis, severity, current circumstances, your abilities and availability and the needs of your loved one. Some things you may find helpful when caring for a loved one include:
Educate yourself: Learn about the specific diagnosis and familiarise yourself with the symptoms of the disorder so that you are able to recognise when your loved one is showing signs that their illness is not well controlled. The more you learn about what to expect the easier it will be to provide the right kind of support.
Communication: Be patient with your loved one. Try not to expect that they are able to express their emotions, thoughts or concerns as they did before they had their mental health illness. Communication may be challenging for them. They may lack the motivation to socialise and communicate or lack the confidence to tell you what they need or maybe they experiencing hallucinations that affect how and when they communicate. Listen to what your loved one has to say and give them time to express themselves without interrupting or offering your opinion.
Be empathetic: Showing empathy to a loved one can be tough to do, especially if you're experiencing strong emotions yourself. You may need to redefine what being helpful to your loved one means and alter the way you offer care and empathy. Show your loved one that you are there for them by asking them how they feel, what they need or want. Don't assume you already know. Listen with your ears, eyes and body language. You don't have to agree with what they say but it is important to acknowledge and validate what they say or how they feel.
Encourage stress reduction strategies: Excessive stress may exacerbate your loved one's symptoms or increase the likelihood of relapse. Stress reduction strategies such as walking, relaxation or meditation may help reduce some of the symptoms of their illness.
Encourage your loved one to see a health professional: It can feel scary or overwhelming for your loved one to talk to a health professional. You can't force them to get help but you can provide a supportive environment and encouragement.
How do I encourage my loved one to seek help?
Your loved one may not want to get treatment for a number of reasons including not recognising that they are unwell, thinking things will get better on their own or worrying about what other people might think. If you are concerned about a loved one's mental health you may like to try:
Picking a good time and place to let your loved one know you need to have an important conversation with them.
Approaching them with empathy and explaining that you are concerned about them because they seem down or stressed.
Preparing to be patient and trying not to get defensive if your loved one gets upset or lashes out at you.
Using 'I' statements such as "I am worried about you".
Offering to help your loved one to find a health professional and going along to the appointment with them.
What if the person I care for becomes suicidal?
It is not uncommon for someone with a mental health illness to think and talk about suicide. It does not necessarily mean that they want to harm themselves, they may just want to stop hurting. It is important that your loved one discusses these thoughts with someone they trust; a family member, friend or their mental health professional. All suicide threats, especially those involving a specific plan of how they will carry it out require urgent attention.
If there is a crisis:
Encourage your loved one to call lifeline on 13 11 14
Take your loved one to the emergency department at the nearest hospital
Call '000' and request an ambulance
Inform your loved one's health care professional as they have a duty of care to provide advice and support
Looking after yourself
To be the most present and effective carer you can be for your loved one, it is important to look after your own health and wellbeing. Discussing with your loved one what support you can and can't provide early on can help to reduce miscommunication, unrealistic expectations, burn out and conflict. It may also be helpful to discuss with your loved one who is able to assist them or what resources they can access when you are unavailable.
Make sure you schedule some 'me time' to relax or do something that you enjoy, every day. If longer breaks are needed plan ahead and access friends, family or respite services to take over while you are away. Eating regular healthy meals and getting a good night sleep is also critical.
If you are unsure how to support your loved one through specific situations it may be helpful to find resources, access courses or see a professional to learn specific skills such as how to respond to a crisis situation or how to communicate assertively. If you are struggling to care for your loved one, don't be afraid to ask for help.  People usually cope better with stress by sharing their thoughts with someone they trust.  Carer's groups also exist and can be a great way to connect with other carer's in a similar situation to you.
Caring for someone with a mental illness can be both challenging and rewarding. It is very important to take time to look after your own physical, social and emotional needs. Look out for signs that you are becoming stressed and consider talking to a mental health professional. Speaking to a psychologist may benefit you and your loved one by helping you to better understand and manage situations and behaviours that arise in your role as a carer. Role modelling this behaviour may influence your loved one to also access professional help.
Author: Vision Psychology 
To make an appointment try Online Booking. Alternatively, you can call Vision Psychology Brisbane on (07) 3088 5422.
References
American Psychological Association (2016). Supporting a Family Member with Serious Mental Illness. Retrieved from http://www.apa.org/helpcenter/improving-care.aspx
Lifeline Australia (2010). Preventing Suicide. Retrieved from https://www.lifeline.org.au/Get-Help/Facts—Information/Preventing-Suicide/Preventing-Suicide