Cognitive Behavioural Therapy (CBT)
CBT, the "gold" standard therapy approach for many mental health conditions. The theory behind CBT is that what we think affects how we act and how we feel. Where changing your thoughts or behaviours could result in a change in your feelings.
It works by teaching clients the skills to be aware and monitor their thoughts. Eventually, clients can challenge those thoughts if those thoughts are unhelpful. Clients might also be encourage to engage in behavioural activation. When deemed appropriate, clients will also be guided through a process called downward arrow to identify their deepest negative core belief and challenge and replace the core belief.
The end goal of CBT is to equip clients with the skills to improve quality of life by changing thinking patterns and behaviours to take control of his/ her perception of life events.
Emotional Freedom Techniques (EFT)
EFT, some may consider as a 4th Wave therapy. EFT has been receiving a lot of academic attention in recent years and has been shown to be effective in treating a range of mental and physical health conditions. It is a mind-body approach in that it includes direct interventions at the level of the body through acupressure points.
EFT works by teaching clients techniques to cope with acute stress or physiological pain in daily life. In session, the EFT therapist would explore the clients past traumatic memories. One by one, the client will work alongside with the therapist to process those memories. Once certain memories are processed, psychological symptoms will also disappear.
The end goal of EFT is to equp clients with the skills to cope with acute stress and to tackle their subconscious belief through processing trauma. EFT has been shown to create changes in the brain, DNA expression, hormone production, and brain waves and blood flow.
How CBT and EFT Complement Each Other
Both CBT and EFT aims to tackle and challenge negative core belief. Imagine a pyramid of tables stacking on top of each other. Each table represents are certain event or memory, the table on the top represents the negative core belief (e.g. I am unlovable, etc).
CBT works by teaching clients to be aware of their day-to-day thoughts and through the use of CBT techniques, therapist helps clients explore their subconscious negative core belief and challenge that core belief. Sticking to the table pyramid imagery, CBT basically aims to tackle the top table and replaces it.
However, sometimes clients are in such distress where it's not possible for them to thinking rationally even with the help of relaxation techniques. In those situations, it is difficult for them to be aware of their thoughts. If the clients aren't aware of their thoughts, it makes it difficult to identify their negative core belief(s).
EFT, on the other hand, provides client with a tool to cope with acute distress and brings clarity. This way, clients could be in the mental state to monitor their own thoughts. Moreover, instead of tackling the top table like CBT. EFT specializes in processing memories especially traumatic memories. Which means, EFT tackles the tables on the bottom of the pyramid. The idea is that when the right memory (table) is processed, the entire pyramid along with the negative core belief will collapse.
Best of Both Worlds
Both CBT and EFT are effective therapy approaches. It depends on the individual's experience to determine which one is the best approach for them if not both.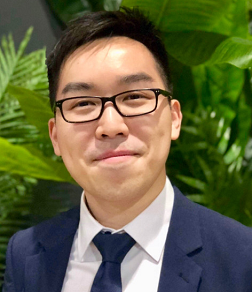 Author: Christopher Lee, B Psych Science (Hons); Masters of Psych (Clinical); MAPS
Christopher Lee is a Brisbane psychologist with a keen interest in helping teenagers and young adults with trauma, behavioural and relational issues. In addition to speaking English, Cantonese and Mandarin fluently, Christopher uses evidence-based therapy techniques such as CBT, ACT, EFT, and DBT.
To make an appointment with Christopher Lee try Online Booking. Alternatively, you can call M1 Psychology Loganholme on (07) 3067 9129 or Vision Psychology Wishart on (07) 3088 5422.
References:
Byrne, J. (2014). Introducing EFT (emotional freedom techniques) a practical guide. Icon Books.
Chatwin, H., Stapleton, P., Porter, B., Devine, S., & Sheldon, T. (2016). The effectiveness of cognitive behavioral therapy and emotional freedom techniques in reducing depression and anxiety among adults: A pilot study. Integrative Medicine (Encinitas, Calif.), 15(2), 27–34.
Craske, M. G. (2017). Cognitive-behavioral therapy (2nd ed.). American Psychological Association.