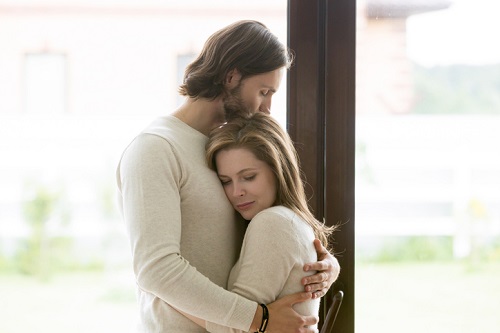 It's common for pregnant women to worry about their unborn baby, and to hope that everything will turn out all right.
Modern technology may be helpful in soothing their concerns. Ultrasounds and other diagnostic tests to check that the baby is developing normally have become a routine part of pregnancy.
But for one out of every hundred pregnant women (1), these routine checks do  not go smoothly. Instead, they will hear devastating news from their doctor, along the lines of: "I'm sorry, but there seem to be some foetal abnormalities".
Nobody ever expects or anticipates that this will actually happen to them, and the psychological effect of receiving an unexpected diagnosis can be understandably, quite traumatic (2).
Often, this news doesn't come until the second trimester, when a parent has already begun the psychological process of bonding with the baby.
And so the expectant parents face a heartbreaking decision: Should they terminate or continue with the pregnancy?
Whatever decision parents eventually make, the diagnosis is bound to plunge them into the depths of grief.
Stages of Grief
According to Bowlby's attachment theory, the stages of grief include: shock and numbness; searching and yearning; and disorganisation and reorientation (3).
Shock and Disbelief: Shock begins from the moment a suspicion of abnormality is raised at an ultrasound examination or other diagnostic procedure. Some women go through a denial stage and defer engagement with the problem until it has been confirmed by a second party.
Gaining meaning: Shock is soon replaced with a need to adapt to the news, which begins with finding concrete ways to determine the causal factors involved. Women subsequently refer to the initial consultation with the foetal medicine specialist as the first step in finding answers (4).
Reorientation: Psychologically, it would appear that emergence of a positive vision of the future (whatever it might be) is synonymous with transition into this phase, as the woman works through her experience in ways that permit her to reconstruct the future and adapt her previously held beliefs about pregnancy (4).
A Challenge to their Assumptive Worlds
When a woman (or couple) is forced to make a decision about the pregnancy due to foetal abnormalities, many of their often unconscious beliefs and assumptions are challenged, for example:
Having an ideal baby.
Hopes and dreams of life with the baby.
Awareness of some babies being born with abnormalities and that could not happen to us/me.
I will never kill or destroy anyone.
I am a healthy person, and I have faith in my body.
Healthy women produce healthy babies.
Good things happen to good people, bad things happen to bad people.
Motherhood.
I am a woman producing a healthy baby.
Choosing to Continue with the Pregnancy
For those parents choosing to continue with the pregnancy, despite foetal abnormalities:
It can be fraught with anxiety, and the pregnancy may be treated as a risk factor rather than a normal life event.
Many women who continue a pregnancy regardless of the diagnosis, still secretly hope they will not have to care for a child with significant disabilities.
Some wish for a miscarriage, therefore absolving them from making a decision.
Some believe it is their norm to keep the baby – they feel more comfortable with the idea of coping with caring for a child with complex needs, compared to living with the decision to end the pregnancy (4).
The uncertainty surrounding a pregnancy with an evolving prognosis can hinder progress through the stages of grief.
Pregnancy Loss
Just because a woman or couple has chosen to end a pregnancy due to foetal abnormalities, does not make the grief over their loss any less real than any other bereavement. Any type of pregnancy loss can have a significant psychologist impact on the parents.
As with any crisis point or traumatic event in our lives, counselling by a skilled professional may provide valuable emotional support and a safe space to explore difficult feelings and grieve a loss which quite possibly nobody else knows about.
To make an appointment try Online Booking. Alternatively, you can call Vision Psychology Brisbane on (07) 3088 5422.
References:
Lawson, K. L., Shelley, I. & Jonasson, T. (2006). Maternal serum screening and psychological attachment to pregnancy, Journal of Psychosomatic Research, 60, 371-378.
Lalor, J. G., Devane, D. & Begley, C. M. (2007). Unexpected Diagnosis of Fetal Abnormality : Women's Encounters with Caregivers, Journal Compilation, 80-88
Neimeyer, R. A. & Gaminino, L. A. (2003). The experience of Grief and Bereavement, Handbook of Death and Dying. 2, 847-854.
Lalor, J., Begley, C. M. & Galavan, E.  (2009). Recasting Hope: A process of adaptation following fetal anomaly, Social Science & Medicine, 68, 462-472.