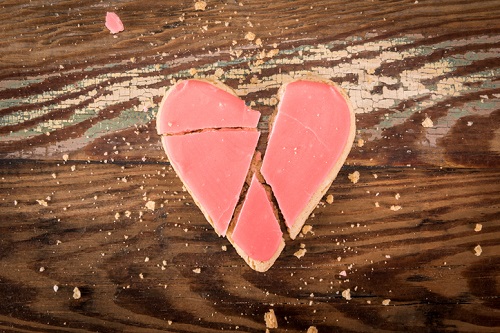 A break up can be a traumatic time in our life, and almost every one of us will experience it sooner or later.
It could be compared to a tsunami – because in a very short period of time, our life can change radically.
Why is it so Hard to Recover after a Breakup?
The first thing is to accept the reason behind the breakup. Quite often because we are in so much pain we do not want to hear the simple reason that the other person has given us such as "I am not in love anymore".  We need to accept this reason in order to start moving on.
It doesn't help that we tend to idealise the other person after a breakup. Our brain will trick us and we will remember all the good memories and the beautiful smile of our ex. We cannot think properly – but more importantly we can't seem to balance those thoughts out with what the relationship was like in reality.
Following a breakup, it is common to feel that we do not know who we are anymore. A breakup leaves so many voids in our lives; recovering means we need to recognise these voids and fill them in other ways. For example, we may feel voids in our identity such as Who am I? and What is life about?
To illustrate my point, let me share a story:
I caught up with one of my friends who had just broken up with her boyfriend. From my perspective, their relationship was working pretty well and I was as surprised as she was when she told me that he left her all of a sudden.

My friend is a very independent woman, but she felt devastated and I could barely recognise her. She was telling me that she was feeling lonely and she did not know what do to anymore, and she was afraid to go through all the challenges that were waiting for her without him.

I encouraged her to reach out for help, and reminded her that she was not alone and social support was important for her recovery. She knew she needed help but she felt vulnerable and stupid for not being able to manage her breakup on her own."
Her story really hit me and reminded me of how hard it is to ask for help, and how harsh we can be on ourselves. Asking for help is not a sign of weakness; it is actually the opposite.
The 4 Stages of a Breakup
We could describe a breakup in four stages:
The Decision: Whether this decision comes after several years of marriage or after a few months of dating, we are never ready. One person is at the origin of the decision, and tends to become cold and distant to help him/her in the process. While on the other side, it can come as a real shock to their partner.
The Emotional Trauma: It is at this stage of the process, we should pay close attention to our emotions. Between anger, betrayal, disarray, sadness, disillusionment, guilt, feelings of relief or freedom, the reproaches and all negative thoughts about this relationship, it is a roller coaster of emotions. This is where we tend to idealise the other person and where we can't stop thinking about all the beautiful things about the relationship.
Healing: This step is usually a time when we need to be alone. We need to rebuild ourselves, to find ourselves, but also to grieve. It is a time when it is important to juggle moments of loneliness and moments with family and/or friends to avoid depression. It is an important phase in which it is helps to be surrounded, and especially to overcome our hesitations about asking for help.
It is also important at this point in the process that we don't throw ourselves into a new story. Very often the first relationship after a painful breakup is what is called a rebound – it's a relationship that will not endure, usually lasting for two or three months maximum. It is a way of distracting ourselves from the pain of the breakup.
New Future: Over time, we begin to establish new habits, find a new routine and above all, we are ourselves again. Some may feel they have grown stronger after this challenge. We have shown resilience, and are more in tune with ourselves and the person we are. After having passed this test, a new relationship may be considered.
Keep in mind that we are all different. Some people will recover from a breakup in one month, while others will need six months or a year. The healing process can be long and painful. Listen to your body and emotions, but more importantly take the time necessary for you.
Heartbreak shares all the hallmarks of traditional loss and grief such as insomnia, intrusive thoughts, immune system dysfunction, and depression. It impacts us in multiple ways.
However we do not need to suffer through such a major transition in our lives alone. We can reach out for help to a mentor, friends, family or a psychologist.
To make an appointment you can call Vision Psychology Brisbane on (07) 3088 5422.
References: