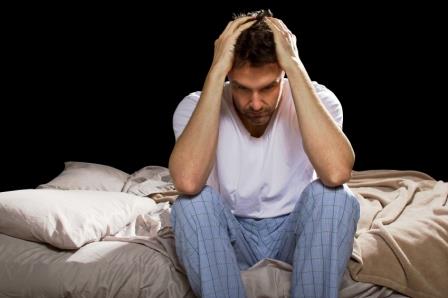 The essential characteristic of insomnia is a general dissatisfaction with sleep quantity or quality due to difficulty initiating or maintaining sleep. Sleep complaints are often accompanied by distress and impairment to social, occupational, or other aspects of life, and daytime fatigue.
Symptoms
Insomnia symptoms commonly occur alongside another mental health or physical conditions and can occur in a variety of different ways, for instance:
Sleep-onset insomnia involves difficulty falling asleep at bedtime
Sleep maintenance involves frequent or prolonged awakenings throughout the night
Late insomnia early-morning awakenings and an inability to fall back to sleep
For a diagnosis of insomnia disorder, the sleep disturbance needs to have occurred at least three nights per week for three months, and the sleep difficulty occurs despite ample opportunity for sleep. The insomnia is not attributable to other condition such as narcolepsy, a breathing-related disorder, or other physical, mental health condition or addiction.
Prevalence Rate
A population based estimate indicates that approximately one third of adults report symptoms of insomnia, of that 10%-15% experience associated daytime effects, and 6%-10% have symptoms which meet the criteria for insomnia disorder. The initial onset of insomnia usually occurs in young adulthood and can re-occur at any time. An increase in occurrence of insomnia within the older population is generally explained by a higher rate of other physical health problems associated with aging. Often insomnia is experienced in recurrent episodes associated with stressful life events or lifestyle changes.
Treatment Options & Outcomes
Insomnia can create a vicious cycle, where someone will be unable to fall or stay asleep due to being preoccupied with stressors or worries.  "Sleep" (or lack of) often then becomes a pervasively distressing and stress-inducing trigger itself which serves to worsen the situation.  Psychotherapy and pharmacological treatments have been found to effectively treat insomnia. Each individual's treatment plan will vary depending on the cause of the problem, common interventions and treatments include the following:
Sleep hygiene
Stress, depression and anxiety can be treated through Cognitive Behaviour Therapy (CBT)
Sleep study if sleep apnoea is a concern
Sleep diary
Stimulus control
Sleep restriction
Relaxation training and meditation
Authored By: Vision Psychology
To make an appointment try Online Booking. Alternatively, you can call Vision Psychology Brisbane on (07) 3088 5422.
Resources:
American Psychiatric Association. DSM-5 Task Force, & American Psychiatric Association. (2013). Diagnostic and statistical manual of mental disorders: DSM-5 (5th ed.). Arlington, VA: American Psychiatric Association.
Matteson-Rusby, S. E., Pigeon, W. R., Gehrman, P., & Perlis, M. L. (2010). Why Treat Insomnia? Primary Care Companion to The Journal of Clinical Psychiatry, 12(1).
Orr, W.C & Pressman, M.R (Eds). (1997). Understanding Sleep: The evaluation and treatment of sleep disorders. American Psychological Association: Washington.