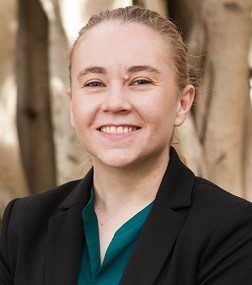 B Psy Sc (Hons); M App Psy (Sports & Exercise).
I am a psychologist with a keen interest in health and wellbeing, and take a holistic approach to therapy that recognises the strong connection between the body and mind.
I am passionate about the benefits of sport and exercise for mental as well as physical health, an interest which has led me to further studies in the area – I am currently undertaking a Masters of Applied Psychology (Sports and Exercise) at the University of Queensland.
My goal as a psychologist is to help my clients identify and overcome the barriers that are standing in the way of what they want to achieve, whether that be in their personal or professional life. Everyone has a different idea of what is important to them and what they want to get out of seeing a psychologist, so it's important that we work together to identify an appropriate approach to meet your individual needs.
And if you read that and are now thinking that you don't know what's important to you, or what you really want to get out of seeing a psychologist, don't worry! What is important to us is constantly changing and evolving, and often requires us to re-evaluate as we get older, change jobs, experience a serious injury, retire from a sport, graduate from high school, lose interest in a hobby, or whatever it may be. If you're not sure what is important to you or what you want to work towards, we can figure it as we go.
To make a booking with Nikki Crossman choose Online Booking or call Vision Psychology Brisbane on (07) 3088 5422 or M1 Psychology Loganholme on (07) 3067 9129.
Areas of interest
I primarily work with adults, and am interested in working with people experiencing a range of concerns including:
Sleep problems;
Anxiety – including panic attacks, handling competition nerves and performance anxiety;
Depression;
Eating disorders;
Attention deficit disorder (ADD);
Burnout;
Self-confidence;
Injury rehabilitation;
Pain management;
Transitions (eg retiring from sport)
Lifestyle/habit changes.
My previous experience includes working in several organisations including Drug Arm, and the Brisbane Pain and Rehabilitation Service, and with individuals and teams through sports organisations like the UQ rowing club.
I am committed to using evidence-based approaches such as cognitive behavioural therapy (CBT), relaxation strategies, acceptance and commitment therapy (ACT), psychological skills training (PST), and interpersonal therapy (IPT).
CBT
Our thoughts, feelings, and behaviours interact to form adaptive or maladaptive responses to what is going on around us. Often these responses are not isolated, and are influenced by habits or patterns in the way that we think, feel, or behave. CBT looks at how we can challenge or change these habits and form more helpful patterns, while developing the skills to overcome a wide range of concerns and maintain a healthy outcome in the long term.
Relaxation strategies
These are useful for highlighting the connection between our body and mind, and can be used to reduce physical tension, manage breathing and bring awareness to physiological sensations in the body in ways that make it easier to deal with challenging situations or events, and promote long term health and wellbeing.
ACT
This psychological approach uses tools such as goal setting, mindfulness, and behaviour change strategies to promote psychological flexibility and adaptability.
Psychological skills training
The focus is on equipping you with practical skills such as goal setting, effective use of visualisation and imagery, as well as self-talk to improve performance. Psychological skills training can be used to improve performance through pre-game routines, attention control, responding to setbacks and a variety of other strategies.
Interpersonal therapy
As the name suggests, this involves looking at how you relate to the people around you, and how you can strengthen or develop those relationships in ways that improve your quality of life and wellbeing. It is impossible to go through life without being affected by the people around you, and so your relationships can provide a good window for improving mental health. IPT covers a range of skills such as communication and expression, which are used to target areas that are causing problems within your relationships.
Whether you are facing challenges on a personal, professional or sports and performance level, I would love to help you incorporate proven psychological principles to improve your life.
To make an appointment try Online Booking. Alternatively, you can call Vision Psychology Brisbane on (07) 3088 5422.
Articles of Interest by Nikki Crossman Psychologist: