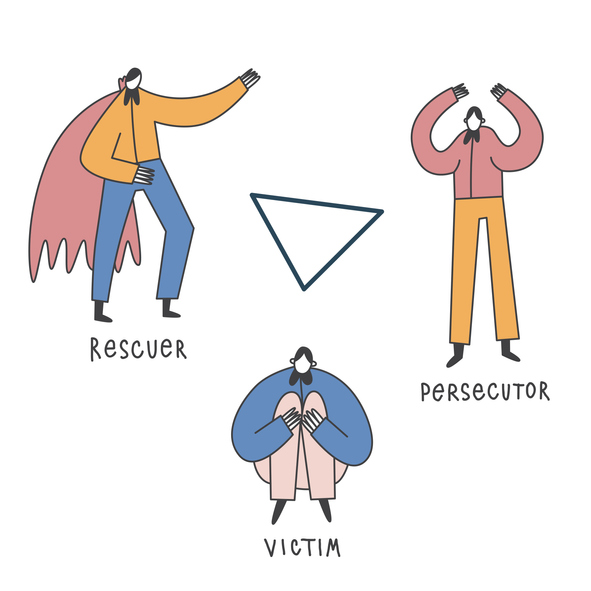 Drama Triangle
The Karpman Drama Triangle is a simple method of explaining patterns of unhealthy relationships. It is a social model that describes the dysfunctional roles people can play when entangled in pathological conflict.
The Karpman Drama Triangle was created by Dr. Stephen Karpman, a young psychiatrist studying under Dr. Eric Berne, the creator of transactional analysis. His article describing it won the Eric Berne Memorial Scientific Award in 1972. He introduced the concept to understand and explain dysfunctional social interactions and relationship dynamics. The Drama Triangle consists of three roles: Victim, Persecutor, and Rescuer. It illustrates how people can get trapped in these roles within interpersonal conflicts.
The Victim role involves feeling helpless, oppressed, and powerless in a situation. People in the Victim role often believe that external circumstances or other people control their lives, and they may seek sympathy, support, or rescue from others.
Characteristics of the Victim role include:
Helplessness: Individuals in the Victim role may feel unable to take action or make decisions on their own. They may believe that they are at the mercy of external factors.
Blame: Victims often attribute their problems and difficulties to others, refusing to take responsibility for their own actions or choices.
Seeking Rescue: Those in the Victim role may actively seek out Rescuers who they hope will solve their problems and relieve their distress.
Manipulation: Victims can use guilt or manipulation to gain sympathy or assistance from others.
Breaking free from the Victim role involves taking responsibility for one's choices, actions, and emotions. It requires recognising one's own power to make changes and seek solutions instead of relying on others for rescue or solving one's problems.
The Persecutor role involves adopting a critical and controlling attitude toward others, often blaming or punishing them for perceived wrongdoings.
Characteristics of the Persecutor role include:
Blame and Criticism: Persecutors tend to blame and criticise others for problems or mistakes, often taking on a judgmental and superior attitude.
Control: They may try to control or manipulate others, using intimidation, threats, or aggression to exert power over them.
Defensiveness: Persecutors often feel the need to defend themselves or their beliefs by attacking others, even pre-emptively.
Projection: They may project their own negative feelings or insecurities onto others, portraying them as the source of the problem.
Avoiding Vulnerability: By assuming the Persecutor role, individuals may avoid acknowledging their own vulnerabilities or insecurities.
Shifting away from the Persecutor role involves recognising the impact of one's behaviour on others and choosing more constructive ways of interacting.
The Rescuer role involves trying to help or "save" others, often without being asked. This behaviour may stem from a desire to feel needed or gain a sense of self-worth.
Characteristics of the Rescuer role include:
Over-involvement: Rescuers often become overly involved in other people's problems or lives, sometimes neglecting their own needs in the process.
Enabling: They may enable others by providing excessive assistance, which can hinder the recipients' ability to take responsibility for their own actions and decisions.
Lack of Boundaries: Rescuers may have difficulty setting boundaries, making it challenging to distinguish between helping and overstepping.
Creating Dependency: The individuals being "rescued" can become dependent on the Rescuer's assistance, perpetuating a cycle of unhealthy interactions.
Shifting away from the Rescuer role involves recognising the importance of allowing others to take responsibility for their own lives and decisions.
Swap triangles
Recognise when you're caught in the Drama Triangle (Victim, Persecutor, or Rescuer) and acknowledge its negative effects on your interactions. Start using the Winner's Triangle. Acey Choy (1990) developed a model aiming to be the antithesis of the Karpman Drama Triangle. The models move:
from Persecutor ("I am right") to Assertive ("I have needs")
from Rescuer ("I am good") to Caring ("I am listening")
from Victim ("I am blameless") to Vulnerable ("I am struggling")
Assert rather than persecute. Stop playing the Persecutor, who blames, punishes, forces or manipulates others to do what they want. Instead of aggression, use assertion to ask for what is wanted.
Be vulnerable, not a Victim. In the Victim role, we feel too overwhelmed and defeated to solve our problems. Swap to being more emotionally mature by acknowledging you feel vulnerable but don't have to be needy. Aim to accept the situation, take responsibility, and problem-solve.
Rather than rescue, show caring. Be aware that our fears and our sense of obligation or guilt can compel us to take on the problems of another when it isn't healthy to do so. Instead of "Rescuing" by doing all the thinking, taking the lead, doing more than our share, or more is asked of us, aim to be a supportive, empathic listener. We need to give the other person the respect of letting them solve their own problems (Giarratano).
Moving from the Drama Triangle to the Winner's Triangle involves shifting your perspective and behaviours to create healthier, more constructive interactions. Remember that this transition takes time and effort. It's about consistently practicing these new roles and behaviours to create a more positive and empowered dynamic in your interactions. Keep learning and growing. Seek out resources, workshops, or therapy to further develop your skills in maintaining healthy relationships.
Author: Ania Harnden, BSocialWork, AMHSW, EMDR Therapist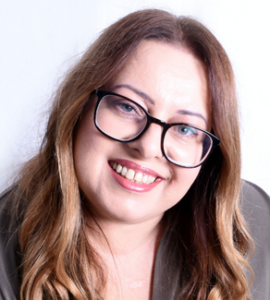 Ania Harnden completed training with the "EMDR Training Australia and New Zealand", a training provider that presents an EMDR training program authorised by Dr Francine Shapiro and her training institute, the EMDR Institute. Ania Harnden is a member of EMDR International Association (EMDRIA).
To book an appointment with Ania, select Online Booking or call Vision Psychology Brisbane on (07) 3088 5422.
References
Choy, Acey (1990). The Winner's Triangle. Transactional Analysis Journal, 20:1, 40–46
Giarratano, Leah (2018). Clinical Skills for Managing Complex Traumatisation. Sydney, Australia: Talomin Books.
Karpman, Stephen B., M.D. (1972). Eric Berne Memorial Scientific Award Lecture, Volume 3, Issue 1. https://www.karpmandramatriangle.com/pdf/AwardSpeech.pdf