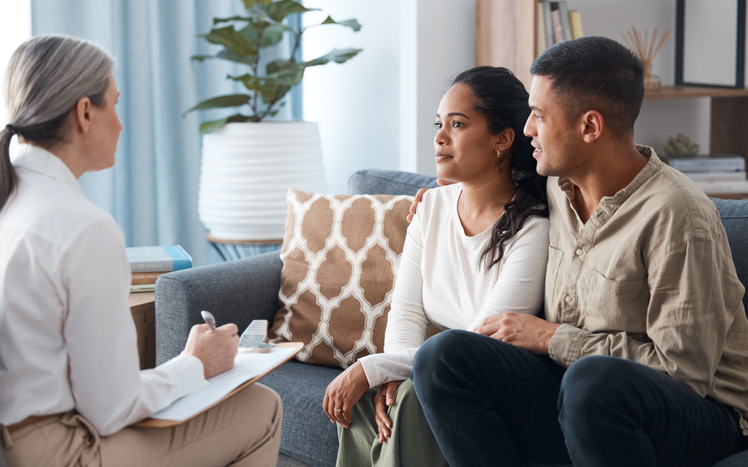 What is the Gottman Method and how is it helpful in relationship therapy?
A background to relationship therapy
Relationship conflict is both challenging and stressful, and has many negative complications for an individual's physical, emotional, and mental wellbeing. The research continues to highlight the correlation between relationship distress and poor mental health outcomes, with research highlighting that relationship distress is associated with increased susceptibility to anxiety, mood and substance use disorders (1). Ultimately, the health and success of a relationship is one of the biggest predictors of an individual's overall level of happiness (2). By treating relationship conflict, an individual is more likely to report better physical health and mental wellbeing, reducing their likelihood of acute mental health distress or illness (3). There are a broad range of relationship therapy methodologies and approaches, each with a unique perspective of relationship conflict and its root causes. When working with couples, it is important for a relationship therapist to choose a method that is both suitable and the most effective method for the couples unique presenting concerns, as there is no one size fits all approach. Some popular methods used by relationship therapists include Acceptance and Commitment Therapy (ACT), Cognitive Behavioural Couples Therapy (CBCT) and the Gottman Method. In ACT, maladaptive schemas are identified and evaluated, specifically maladaptive schemas related to the self and the relationship (4). Through identification of schemas, ACT aims to help couples identify their schema beliefs when they arise, reduce maladaptive or avoidant behaviour patterns and support couples to use more helpful, values-based behaviour responses (4). Additionally, Cognitive Behavioural Couples Therapy focuses on behaviour change directly through skill-based strategies, including communication training, improving decision-making and problem-solving skills to address problematic behaviours within a relationship (5). Both ACT and CBCT have strong empirical support for the treatment of relationship conflict (4, 5), however, an increasingly popular relationship therapy method called The Gottman Method is being widely used by relationship therapists worldwide, with its benefits widely documented in the relationship therapy literature (6).
A background on the Gottman Institute
The Gottman Method is unique in that it has been established based on years of evidence-based practice. The Gottman institute was established by psychotherapists John and Julie Gottman, who have completed decades of research on relationships and predictors of relationship success. In 1986, the Gottman's established a laboratory called the "Love Lab", where a range of experiments were conducted evaluating couple's physiological responses and interactions (7). These interaction patterns were examined using an observational coding system that scored videotapes of the couple interactions with one another, to which it was discovered that there were reliable and predictable patterns of behaviour, or sequences of interactions that could discriminate happy from unhappy couples (7). Through decades of data analysis and research, Gottman and colleagues found that a couple's interaction had significant stability over time (13). They also discovered that most conflicts or difficulties in relationships (69%) are never resolved but instead continue to perpetuate relationship conflict as they are based on personality differences between partners (13). Through the analysis of longitudinal data and various relationship studies, the Gottman's discovered they could not only predict with validity if a couple would divorce, but when, highlighting the scientific nature of relationships (7). John Gottman and colleagues also identified various factors that result in a decline in marital satisfaction after arrival of a first child, to which these factors have been highlighted in Gottman's work on increasing relationship satisfaction (17). With these findings over the decades, the Gottman Institute was established to bring light to this extensive research to create more understanding of relationships, and specific interventions such as the Gottman Method that can effectively treat relationship dysfunction (7).
The Gottman Method in relationship therapy
The Gottman Method is an approach to relationship therapy that is based on the Sound Relationship House Theory; a theory that posits the foundations for a sound and healthy relationship (8). According to the theory, there are various ways to build a sound relationship, which include sharing trust, commitment, building love maps, sharing fondness and admiration, turning towards instead of way, positive perspective, managing conflict, making life dreams come true and lastly, creating shared meaning in the relationship (8). Furthermore, the Gottman's identified 4 traits that increase the likelihood of divorce / separation; these 4 traits (coined the 4 horsemen of the apocalypse) include stonewalling, defensiveness, criticism, and contempt. The Gottman Method focuses on identifying the presence of these traits within a couple and teaching effective strategies (antidotes) to replace the 4 horsemen. The Gottman Method was designed to help couples strengthen their relationships in three primary areas: friendship, conflict management, and creation of shared meaning (7). The Gottman Method will begin with a comprehensive assessment, by which the therapist will conduct an individual session with each member of the couple, following a conjoint couple assessment (7). By doing so, the assessment process of the Gottman Method is thorough and detailed, which allows for the therapist to provide effective feedback on the couple's relationship and complete a valid formulation of presenting concerns (7). After the assessment process, a treatment plan is developed, and the therapist and couple agree to the frequency and duration of sessions (7). A variety of tailored evidence-based interventions are provided when a couple engage in the Gottman Method. Specifically, couples are taught how to replace negative conflict patterns with more positive and healthy interactions, as well as emphasising the importance of healing past conflicts (7). The Gottman method provides an emphasis on increasing a couple's level of closeness and intimacy to improve their friendship, deepen emotional connection, and create behaviour change which enhances the couples sense of shared meaning (7). The Gottman Method can treat a range of presenting relationship concerns, including but not limited to conflict and arguments, poor communication styles and conflict resolution, inferior problem-solving skills, couples on the verge of separation, sexual difficulties, infidelity, and parenting concerns (7).
Author: Abbey Sawyer Sexologist, MAAPi, PostGradDipPsych, BPsychSci, BCrim.
Abbey is a Sexologist who is near completion of her Master of Science in Medicine degree, specialising in psychosexual therapy. Abbey is passionate about the interlink between psychological health and sexuality, and enjoys supporting people of all ages, genders, and cultural backgrounds to enrich their sexual lives and improve their mental health.
To make an appointment try Online Booking. Alternatively, you can call Vision Psychology Wishart on (07) 3088 5422 or M1 Psychology Loganholme on (07) 3067 9129
References
1. Whisman M, Uebelacker L. Impairment and distress associated with relationship discord in a national sample of married or cohabiting adults. Journal of Family Psychology. 2006;20(3):369-377.
2. 2. Lee G, Seccombe K, Shehan C. Marital Status and Personal Happiness: An Analysis of Trend Data. Journal of Marriage and the Family. 1991;53(4):839.
3. Swindle R, Heller K, Pescosolido B, Kikuzawa S. Responses to nervous breakdowns in America over a 40-year period: Mental health policy implications. American Psychologist. 2000;55(7):740-749.
4. Lev A, McKay M. Acceptance and Commitment Therapy for Couples: A Clinician's Guide to Using Mindfulness, Values, and Schema Awareness to Rebuild Relationships. Oakland: Context Press; 2017.
5. Fischer M, Baucom D, Cohen M. Cognitive-Behavioral Couple Therapies: Review of the Evidence for the Treatment of Relationship Distress, Psychopathology, and Chronic Health Conditions. Family Process. 2016;55(3):423-442.
6. Davoodvandi M, Nejad S, Farzad V. Examining the Effectiveness of Gottman Couple Therapy on Improving Marital Adjustment and Couples' Intimacy. Iran J Psychiatry. 2018;13(2):135-141
7. Gottman J, Gottman J. The Gottman Method – About | The Gottman Institute [Internet]. The Gottman Institute. 2022 [cited 25 April 2022]. Available from: https://www.gottman.com/about/the-gottman-method/.
8. Gottman J. The marriage clinic. New York: W.W. Norton; 1999.
9. Baucom D, Adams A. Assessing communication in marital interaction. Assessment of marital discord. Hillsdale, NJ: Erlbaum.1987 139-182.
10. Gurman AS, Lebow JL, Snyder DK. Clinical handbook of couple therapy. 4th ed. New York, NY: Guilford Publications; 2008.
11. Lev A. A new group therapy protocol come binding acceptance and commitment therapy (ACT) and schema therapy in the treatment of interpersonal disorders: a randomized controlled trial. PsyD dissertation. Wright Institute, Berkeley, CA. 2011
12. Gloster A, Walder N, Levin M, Twohig M, Karekla M. The empirical status of acceptance and commitment therapy: A review of meta-analyses. Journal of Contextual Behavioral Science. 2020;18:181-192.
13. Gottman J. The seven principles for making marriage work. London, England: Orion; 2000.
14. Garanzini S, Yee A, Gottman J, Gottman J, Cole C, Preciado M et al. Results of Gottman Method Couples Therapy with Gay and Lesbian Couples. Journal of Marital and Family Therapy. 2017;43(4):674-684.
15. Cleary Bradley R, Gottman J. Reducing Situational Violence in Low-Income Couples by Fostering Healthy Relationships. Journal of Marital and Family Therapy. 2012;38:187-198.
16. Amato P. Research on divorce. Journal of Marriage and Family. 2010;72(3):650-666.
17. Shapiro A, Gottman J, Carrère S. The baby and the marriage: Identifying factors that buffer against decline in marital satisfaction after the first baby arrives. Journal of Family Psychology. 2000;14(1):59-70.
18. Babcock J, Gottman J, Ryan K, Gottman J. A component analysis of a brief psycho-educational couples' workshop: one-year follow-up results. Journal of Family Therapy. 2013;35(3):252-280.
19. Deylami N, Hassan S, Alareqe N, Zainudin Z. Evaluation of an Online Gottman's Psychoeducational Intervention to Improve Marital Communication among Iranian
Couples. International Journal of Environmental Research and Public Health. 2021;18(17):8945