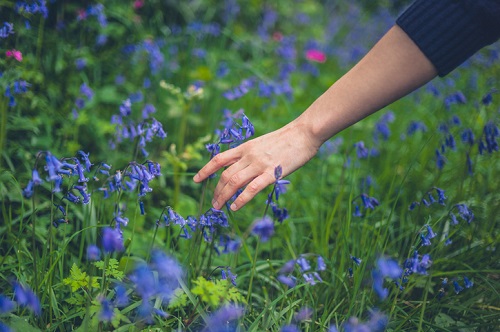 Our mind is constantly busy – thinking about what to wear to work, what to have for lunch, whether we'll finish that project on time, will we fit in with our new peers, the list goes on …
Have you ever watched a movie and constantly played on your phone at the same time? Or gone out with friends and kept thinking about last night's argument with your partner? How much did you miss out on? Did you recall the jokes that were told? How enjoyable was it?
Trouble Staying in the Present Moment?
Because it's so easy to get caught up in all these thoughts, particularly problematic or upsetting ones, we often forget to appreciate and enjoy life. Below are some ideas for being more present:
Mindful breathing – This type of breathing can improve our concentration and also calm our minds. Try paying attention to your breath and observing it as though you've never experienced it before. Notice how it feels when the air goes through your nostrils, or how your stomach expands as you breathe out. When feelings or sensations arise, gently acknowledge them and allow them to come and go. Simply note what distracts you and bring your awareness back to breathing.
Mindful observation – This exercise allows you to appreciate seemingly simple elements in your environment. Our natural environment is something that we easily miss in our day-to-day lives because we're often rushing around, or see it all the time. The next time you're outside, maybe at a park or looking out at a garden, choose something to focus on and watch it for a minute or two. It could be the clouds, an insect, or flower. Simply watch it for as long as your concentration allows, and focus on nothing else. Look at it as if seeing it for the first time, observing what it looks like, and what it is doing.
Grounding exercises – Grounding helps us reorient to the here-and-now through activities that connect our body to the environment. Grounding can also increase awareness of our thoughts and feelings so that we can respond in a more helpful way. Try looking around to describe 5 things you can see, 4 things you can touch, 3 things you can hear, 2 things you can smell, and 1 thing you can taste. Instead of just naming these things, really pay attention to them, focus on the details and describe them further.
Although it's extremely helpful that we're able to do things like reflect on our past and plan for the future, constantly reliving mistakes or worrying about what could go wrong makes it hard for us to feel content.
By enhancing awareness of our experience in the present moment, we're more likely to feel connected in our relationships, make better decisions, and get more satisfaction out of life.
Author: Katherine Vuong, B Beh Sc (Hons), MAPS.
Please Note: Katherine Vuong is not currently practising at Vision Psychology, however if  you call us on (07) 3088 5422 we would be happy to suggest another therapist at our practice with experience in this area.
References
Harris, R (2009). ACT Made Simple: An easy to read primer on Acceptance and Commitment Therapy. Oakland, CA: New Harbinger Publications, Inc.