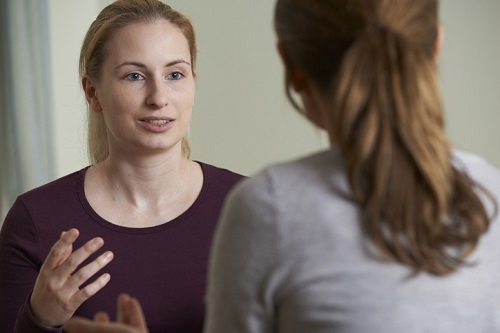 Assertiveness is basically the same as being aggressive, isn't it?
To be assertive is to be able to express your thoughts, feelings, and opinions in a direct and honest manner, while still respecting the rights, needs, and wants of others. People who are aggressive may think they are being assertive because they are stating what their needs are. While this is true for aggressive and assertive communication, the important difference is in the tone, body language, and words used. For example, they may communicate in a way where you feel threatened or attacked, their tone may be harsh, express their opinions as facts, or use threatening questions.
I find it really hard to be assertive. Are some people born more assertive than others?
Actually, we're all born assertive. Think of us as babies. We had no problem expressing ourselves – if we wanted something, we cried.
But as we grew older, we gradually adapted our behaviour to fit in with the responses we received from people around us. For example, we may learn to deal with conflict by yelling and being aggressive, if our parents also dealt with it in this way. If we were taught to please others before ourselves, or that we shouldn't express certain emotions, we may learn not to show it, and will find it hard to assert our needs.
Why should I be more assertive?
Being assertive helps to:
Improve self-esteem: When we're constantly fulfilling others' needs and not our own, it can impact our self-esteem. When we're assertive, we gain a better understanding of who we are and what our worth is.
Have our needs met: We're more likely to have our needs met if we let others know what we want. Being passive can result in a lack of purpose and feeling not in control of our lives.
Build healthier relationships: Being assertive in relationships helps to maintain your sense of identity, and allows it to thrive. You'll be able to talk openly and honestly about your feelings, have more empathy and understanding, and discuss responsibilities and expectations in mutually beneficial ways.
Improve our wellbeing: When people are passive, they are likely to feel stressed from taking on more than they can handle, or feel selfish when they make requests. They can bottle up their true emotions, which can impact their relationships, and also lead to passive-aggressive behaviour.
Will being assertive get me what I want?
Being assertive doesn't guarantee your desired outcome – sometimes you get what you want, sometimes you don't, and sometimes, you'll come to a mutually satisfactory compromise. But knowing how to be assertive means you can choose when you want to use it. There may be situations when being assertive is unnecessary (eg when your health and safety is at risk), but helpful in other areas (eg an organisational culture that values assertive behaviour).
How will a therapist help me to become more assertive?
Depending on what you're interested in, this might involve:
Learning what assertiveness is and how to recognise assertive behaviour.
Learning to think more assertively, and addressing any unhelpful thoughts getting in the way.
Learning how to behave more assertively, and saying No.
Learning ways to reduce physical tension.
Dealing with criticism and disappointment assertively, and giving and receiving compliments assertively.
There can be good reasons why people become unassertive. Based on certain experiences you've had, you may have learnt that you must stay under the radar, or be aggressive to survive. But perhaps your circumstances have changed, and your current way of thinking and behaving is no longer working for you. If you would like to improve your assertiveness skills, consider booking an appointment for counselling.
Author: Katherine Vuong, B Beh Sc (Hons), MAPS.
Please Note: Katherine Vuong is not currently practising at Vision Psychology, however if  you call us on (07) 3088 5422 we would be happy to suggest another therapist at our practice with experience in this area.
References:
Hadfield, S., & Hasson, G. (2012). How to be assertive in any situation. Harlow, UK: Pearson Education Canada.
Bolton, R. (1986). People Skills: How to assert yourself, listen to others, and resolve conflicts. New York, NY. Simon & Schuster.