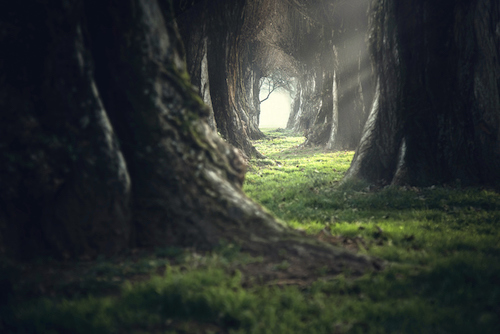 There are many factors which may contribute to depression (which I discussed in my previous article "Can I Have Depression Without Being Sad?").
However, when we experience many or all of these aspects of depression, we can become stuck in a cycle where the less we do, the less we want to do.
Cognitive Behavioural Therapy (CBT) has been found to be effective treatment for depression, but to understand why, first we need to look at something called 'core beliefs'.
What are Core Beliefs?

We all see the world differently. and our experiences growing up help to form our interpretation of how we see ourselves and the world around us. We can even have two people who experience the exact same event and have differing interpretations of what happened (Schmied  & Tully 2009).
Our core beliefs are deeply ingrained beliefs that we have which influence how we interpret our experiences in life.
Let's take a look at 'Person 1' and 'Person 2' as an example.
Person 1: Has a negative view of themselves, feels like a failure, that they can't do anything right and the world is a very hard place to be in.
Person 2: Has a more positive view of themselves, feels like they try their best, sometimes things go okay and sometimes they don't. They see some beauty in the world whilst recognising it can be difficult at times (Otto, 2013).
Person 1 falls over in the street: They may look around to see if anybody else saw it. They may be thinking that they are an idiot, that they are a screw up for falling over, how could they fall over, of course this would happen to them because the world hates them etc. They may be feeling stressed, overwhelmed, shocked, scared, judged, anxious, insecure, inadequate, insignificant, embarrassed, etc.
Therefore they see this situation as catastrophically terrible, will ruminate on this for the rest of the day (or longer) and may not engage in the rest of the day.
Person 2 falls over in the street: They may look for someone else who saw it to laugh with. They may be thinking they are silly (in a fun way), grateful that they are not hurt, wondering how funny that looked to others, even taking a snapchat to send to their friend etc. They may be feeling a little embarrassed and a spike of anxiety. However, they are able to think that people fall over all the time, that they are not hurt, and are able to pick themselves up and continue on with their day.
Breaking the Depression Cycle with CBT
Cognitive Behavioural Therapy looks at how we think about a situation, which affects how we feel, and therefore how we behave.
In counselling, we work together to identify unhelpful thoughts and behaviours (which admittedly can feel confronting). We will be looking at your highly charged emotional events, which have been activated by a particular situation in which your reaction has been driven by those core beliefs (Beck,  Rush,  Shaw., & Emery, 1979).
When we have an uncomfortable emotional response, usually it can be traced to one's irrational beliefs. When these beliefs are effectively challenged in a rational and behavioural manner, the undesired/uncomfortable emotions are reduced (Beck & Weishaar 1995).
Therefore, we find ways that work best for you to be able to challenge those unhelpful thoughts and behaviours (Johnson, Sharon L. 1997). This requires trial and error and a commitment to apply the tools and strategies in the situations that occur outside our sessions in order for you to practise learning something new. Think of it as being your own detective and scientist!
So you guessed it, there is homework with this process. It's an extremely important aspect as this is the opportunity to monitor yourself and test some of the strategies we have agreed on, in actual situations. We are learning together what works best for you so this is a brilliant opportunity to test out for a genuine result.
Author: Aleah Haffenden, B Soc Wk, Grad Cert Suicide Prevention, AMHSW.
Aleah Haffenden is an Accredited Mental Health Social Worker, working primarily with young people (aged 15 and up). She takes a client-focused approach, using a mix of Cognitive Behaviour Therapy (CBT) and Acceptance and Commitment Therapy (ACT), tailored to their specific needs.
Aleah Haffenden is no longer taking bookings. 
To find another clinician try Online Booking. Alternatively, you can call Vision Psychology Wishart on (07) 3088 5422 or M1 Psychology Loganholme on (07) 3067 9129.
References:
Beck, A., Rush, A.J., Shaw, B.J., & Emery, G. (1979). Cognitive therapy of depression. New York: Guilford Press. ISBN (cloth): 0-89862-0007; ISBN (paperback): 0-89862-919-5.
Beck, A.T. & Weishaar, M.E. (1995). Cognitive Therapy. In Current Psychotherapies, 5th Ed., Corsini, & Wedding, Eds. Itasca, Illinois: F.E. Peacock Publishers, Inc.
Chow, C. M. (2020). Sleep and Wellbeing, Now and in the Future.
Johnson, Sharon L. (1997). Therapist's guide to clinical intervention : the 1-2-3's of treatment planning. San Diego :Academic Press,
O'Kelly, M. (2010). CBT in ACTION: A Practitioner's Toolkit. CBT Australia.
Otto, M.W. (2013). Cognitive Behavioral treatment of major depression. Boston University: Center for Anxiety and Related Disorders, NIMH Excellence in Training Award (MH25 RH08478). Retrieved on 17 September, 2014, from: CBT-for-Depression_Slide-set-for-Teaching.pdf
Regier, D. A., Kuhl, E. A., & Kupfer, D. J. (2013). The DSM?5: Classification and criteria changes. World psychiatry, 12(2), 92-98.
Schmied, V. & Tully, L. (2009). Effective strategies and interventions for adolescents in a child protection context: Literature review. Ashfield, NSW: Centre for Parenting & Research, NSW Department of Community Services. Retrieved on 24 June, 2014, from: www.community.nsw.gov.au