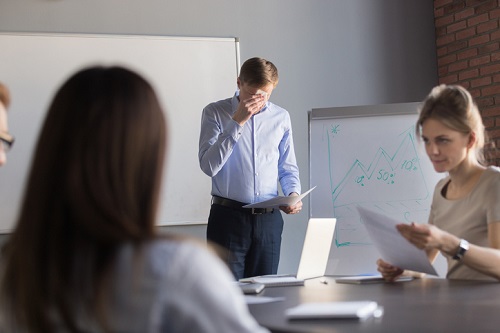 Social Anxiety is something that affects many different people in different ways and at different points in their lives; you are definitely not alone!
What is Social Anxiety?
This is an anxiety in response to social situations (either in the situation, or thinking about being in the situation).
Many of us  feel anxious about social situations such as public speaking, and worry:
if the speech will go well;
what others may think of us;
if we will embarrass ourselves, be humiliated, or judged by others? (Stein & Stein, 2008).
Although we all struggle with worries like these to some extent, there are people who may give the speech anyway and revel in reliving it when it is over.
However some of us may feel so overwhelmed, distressed and anxious that we avoid the specific social situation by any means.
Avoiding the situation may provide some relief in the short term, however it makes the anxiety worse in the long run as it can stop us from doing the things that we want to do, and achieving our goals. It can snowball by pulling in other social aspects, creating more things that we are now fearful of, which further impacts our quality of life and ability to engage in the world around us effectively.
When we feel extremely anxious, we can go into our "fight or flight" bodily response to fear. We may become more focused on our surroundings to scan for threat – which while helpful when we are in a physically threatening or dangerous situation – is not helpful in a social context.
We often have certain types of thoughts when feeling socially anxious, such as over-estimating that something bad will happen, or that we will make a mistake or a fool of ourselves when in a conversation (Leichsenring & Leweke, 2017).
We can also over-estimate the outcome of a negative event in the social situation, eg if we make a mistake or fool of ourselves in a conversation, then everyone will think we are stupid, useless etc.
We may believe that there is a particular way to behave in social situations and that if we don't achieve that, that we will be judged as being stupid or incompetent and feel embarrassed.
Causes of Social Anxiety
So what causes social anxiety?
Everyone is different and the way we interpret situations can differ, but the following factors come into play.
Biological Factors: Studies have not found a particular gene that is associated with social anxiety, however an individual may be predisposed or vulnerable to developing an anxiety (disorder) if it is present in the family (Hofmann, 2007).
Psychological Factors: This vulnerability does not mean that anxiety will definitely develop. It also depends on the lifestyle of the individual and the stressors that they have experienced within their (early) life.
If we are taught to be fearful of a particular neutral situation as a child (social situations) and have not had the chance to challenge this and learn new patterns of thinking and behaving, then we continue these anxious thoughts, feelings and behaviours, continuing to cement that learning which can contribute to the development of anxiety disorders (Stein & Stein, 2008).
Anxiety is problematic when it interferes with an individual's ability to adequately function in daily life, and reduces that quality of life.
Individuals struggling with social anxiety focus more closely on social cues and perceive them to be personally threatening, essentially focussing primarily and intensely on negative things. By focusing on these things and our own physiological anxiety response, this helps us to find reasons to be and stay afraid (Leichsenring & Leweke, 2017).
Generally those of us with social anxiety are afraid of negative evaluation, and believe we are  worthless if others think badly of us, which creates more anxiety about future situations.
Avoiding the situation may seem like a solution but in the long term, the more we avoid the situations, the less opportunities we have to have positive social experiences, challenge those thoughts and beliefs, and build skills to manage the anxiety in the moment.
Counselling for Social Anxiety
So how do we challenge social anxiety?
Some individuals may need to enlist the help of medication to reduce the anxiety symptoms, in order to face the challenge of placing themselves in the feared social situations, to practice the skills to challenge the anxiety.
A counselling approach known as CBT (Cognitive Behavioural Therapy) can be effective, as it helps us with addressing how our thoughts impact our feelings and therefore how we behave. This looks at our physiological anxiety responses and how to soothe our anxiety feelings in our bodies. We also look at the thought process in response to an (upcoming) event, where this has come from, and discover the means of challenging these negative thoughts and beliefs (Heimberg, 2002).
Counselling for social anxiety helps to break the cycle of anxiety, as we gradually face what we fear and use the skills learned in session to manage the anxious thoughts and feelings. In this way we can get to a place where the anxiety no longer stops us from doing what we want, so we can have the quality of life that we deserve (Rodebaugh, Holaway & Heimberg, 2004).
Author: Aleah Haffenden, B Soc Wk, Grad Cert Suicide Prevention, AMHSW.
Aleah Haffenden is an Accredited Mental Health Social Worker, working primarily with young people (aged 15 and up). She takes a client-focused approach, using a mix of Cognitive Behaviour Therapy (CBT) and Acceptance and Commitment Therapy (ACT), tailored to their specific needs.
Aleah Haffenden is no longer taking bookings. 
To find another clinician try Online Booking. Alternatively, you can call Vision Psychology Wishart on (07) 3088 5422 or M1 Psychology Loganholme on (07) 3067 9129.
References:
Stein, M. B., & Stein, D. J. (2008). Social anxiety disorder. The lancet, 371(9618), 1115-1125..
Leichsenring, F., & Leweke, F. (2017). Social anxiety disorder. New England Journal of Medicine, 376(23), 2255-2264.
Hofmann, S. G. (2007). Cognitive factors that maintain social anxiety disorder: A comprehensive model and its treatment implications. Cognitive behaviour therapy, 36(4), 193-209.
Heimberg, R. G. (2002). Cognitive-behavioral therapy for social anxiety disorder: current status and future directions. Biological psychiatry, 51(1), 101-108.
Rodebaugh, T. L., Holaway, R. M., & Heimberg, R. G. (2004). The treatment of social anxiety disorder. Clinical Psychology Review, 24(7), 883-908.