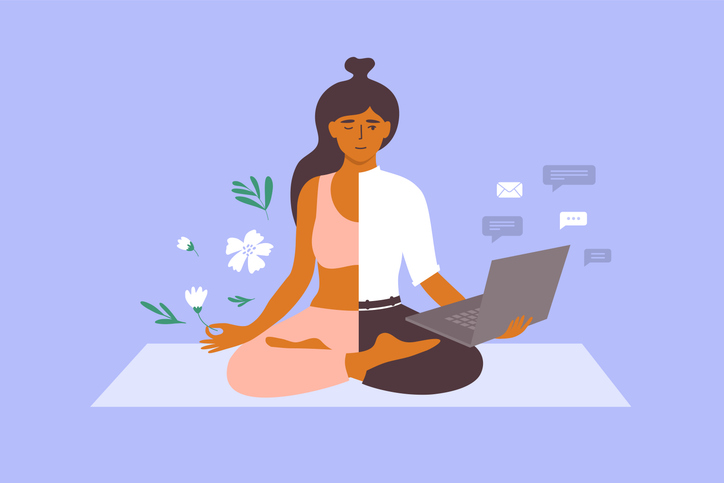 What is dissociation?
Dissociation is a highly complex psychological, physical, and emotional phenomenon, commonly seen within individuals presenting with complex mental health disorders and with lived experience of trauma. In clinical terms, dissociation is defined by the Diagnostic and Statistical Manual of Mental Disorders (DSM-V-TR) as a marked discontinuity in an individual's sense of self and sense of agency, accompanied by altered emotional affect, behaviour, consciousness, cognition, and sensorimotor functioning (DSM-V-TR, 2022). In the 19th century, its most early definition was coined by Pierre Janet, describing it as "a lack of integration among two or more different systems of ideas and functions that constitute personality (Janet, 1907). Janet proposed that dissociation was the result of a deficit in one's ability to integrate experiences, with this deficit being caused by illness, trauma, or genetics (Janet, 1907). Dissociation is described as a division of personality due to poor experience integration rather than a total separation of one's personality (Nijenhuis & van der Hart, 2011). People with lived experience of dissociation often describe themselves as being outside of their own thoughts, feelings, or sensations within their body, and often experience a distorted sense of time, reality, and cognitive awareness (DSM-V-TR, 2022). Dissociation is often characterised as numbness, emotional flattening, and feelings of disconnection; an individual may feel as if they are detached from themselves, their surroundings and existence itself.
What causes dissociation?
Dissociation and exactly why it occurs has been a widely pondered question within the psychotherapy world. The earlier psychodynamic theory posed by Sigmund Freud would explain the experience of dissociation as a defence mechanism; an unconscious process designed to protect an individual's conscious mind, by avoiding the pain that would be aroused by bringing repressed memories and trauma into the conscious mind (Freud, 1923). Other explanations for dissociation link the experience of childhood abuse, neglect, and severe forms of household dysfunction during the developmental years to dissociative symptoms (Quiñones, 2022). There is significant evidence to suggest that dissociation typically develops in response to overwhelming, chronic, and severe trauma or distress (Quinones, 2022), however, it is widely accepted that a single factor alone is not usually the primary cause of dissociation. Instead, a multitude of factors often contribute to the experience of dissociation, with various biological, psychological, and social factors integrating to increase one's risk.
How can a psychologist help with dissociation?
A psychologist can support somebody with dissociation through the therapy process by providing some of the following forms of therapeutic work:
• Providing a safe space and building a strong rapport with your therapist is the first step when working with dissociation. It is so important, as dissociation is often triggered by feelings of unsafety, uncertainty, or other stress triggers.
• A therapist will then educate you on dissociation and encourage you to identify what happens in your body and mind while experiencing dissociation. Connecting back to the body and learning grounding techniques can be helpful. Learning your triggers and warning signs is also important for developing greater self-awareness and understanding of your dissociative experiences.
• Learning new coping skills and ways to self-soothe and regulate is important for those who dissociate. Dissociation is often developed as a coping skill in response to trauma, so it can take some time to learn new ways to cope.
• Identifying different "parts" of the individual's personality system can be helpful during the therapeutic process, especially when working with trauma. Oftentimes, dissociation may occur due to a person's "parts" not being harmonised, causing conflict and distress within that person's personality subsystem.
• For some people, reprocessing traumatic memories may be helpful to move forward. Traumatic memories are often not processed effectively and will remain in short term memory in a "state specific" form. That means, they are stored with the physiological sensations experienced during the memory. This is why many people with trauma memories will often report seeing, smelling, tasting, and feeling the same sensations they experienced during the trauma. EMDR is a highly effective way of reprocessing memories that have not been stored adaptively in long term memory. **
**Abbey is an EMDR therapist in training and does not work with clients who have dissociative symptom (measured by DES II) scores of over 30.
Author: Abbey Sawyer Sexologist, MAAPi, PostGradDipPsych, BPsychSci, BCrim.
Abbey is a Sexologist who is near completion of her Master of Science in Medicine degree, specialising in psychosexual therapy. Abbey is passionate about the interlink between psychological health and sexuality, and enjoys supporting people of all ages, genders, and cultural backgrounds to enrich their sexual lives and improve their mental health.
To make an appointment try Online Booking. Alternatively, you can call Vision Psychology Wishart on (07) 3088 5422 or M1 Psychology Loganholme on (07) 3067 9129
References
American Psychiatric Association. (2022). Dissociation. In Diagnostic and statistical manual of mental disorders: DSM-5-TR. American Psychiatric Association Publishing.
Freud, S. (1923). Beyond the pleasure principle. by Sigmund Freud. Authorised translation from the Second German edition by C. J. M. Hubback. London, Vienna: The international psycho-analytical press, 1922. Journal of Mental Science, 69(286), 1-83
Janet, P. (1907). The major symptoms of hysteria. New York, NY: Macmillan
Nijenhuis, E. R., & van der Hart, O. (2011). Dissociation in trauma: A new definition and comparison with previous formulations. Journal of Trauma & Dissociation, 12(4), 416–445. https://doi.org/10.1080/15299732.2011.570592
Quiñones, M. A. (2022). Adverse childhood experiences and dissociative disorders. Dissociation and the Dissociative Disorders, 209–222. https://doi.org/10.4324/9781003057314-16