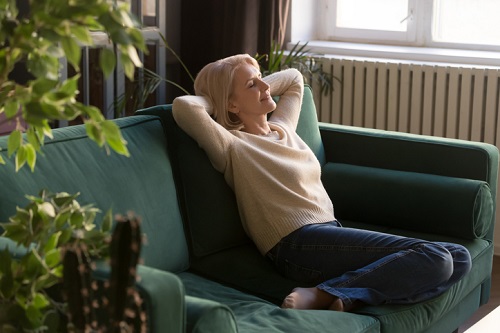 Taking time to love and take care of yourself is not selfish.
Nowadays it is quite common – especially for women – to make everyone happy but themselves. We tend to push our body but also our mind as much as we can but in the long run, we know it is not a good idea. The consequences can be severe, such as what we call burnout or chronic stress.
Feeling stressed is so common these days that most of us do not take it seriously anymore. It is almost as if it is a normal state to be in but our bodies are not meant to function this way long term.
If we want to make our family and friends happy, we need to learn how to prioritise ourselves because we can't pour from an empty cup.
What is Self-Care?
For most of us, self-care resonates with being selfish. It is actually the opposite. Self-care is our best tool to keep going in our busy modern lives.
Self-care is a commitment towards ourselves. It is the best way to look after our needs: emotional; physical; psychological; spiritual; and also our social needs.
We could also say that self-care is a self checkup. It is almost like scanning your body, mind and soul to identify which part of ourselves needs to be taken care of.
It is not something we should do once in a while hoping to see some benefits; it is a deal we make with ourselves to fulfill our needs and to prioritise ourselves before trying to make anyone else happy.
Who Needs Self-Care?
We all have our ideas on this topic, but self-care is for EVERYONE. We all need make ourselves a priority because no one else should or would do it as well as we can!
At first, it may be uncomfortable especially if you have been making the people around you a priority before anything else. After a while, it becomes more natural, and I am pretty sure you haven't thought about it this way in a long time.
Taking care of yourself is not just about having a hot bath and drinking tea while reading one of your favourite books. This may be part of the process but it is not enough.
How to Love and Take Care of Yourself
True and deep self-care is facing how you feel, how you want to feel, and what you should do to get to that stage.
First of all, it is absolutely necessary for you to admit that you need a break to look after yourself. It is the first step but probably one of the hardest in the process.
Quite often it is hard to admit that we need help or need a break, because it means admitting that a part of us is vulnerable, and vulnerability is sometimes considered a synonym of being weak.
The next step is to prioritise yourself without feeling guilty. So if you haven't done it for ages let's plan some baby steps such as doing some activities that bring you happiness or relaxation. It can be as simple as waking up 15 minutes earlier to go for a quick walk before anyone in your house wakes up, or taking that time to do some stretching exercises and to focus on your breath.
But if you want this practice to be efficient the key word is consistency, as taking time for yourself only ever once in a while won't have a positive impact in the long term.
if you feel overwhelmed and don't know where to start, reach out for help and book an appointment. I will help you make yourself a priority.
To make an appointment you can call Vision Psychology Brisbane on (07) 3088 5422.