Social Media  
Social media has quickly become part of our daily lives and its popularity is ever-growing with the various social media platforms that continue to emerge.
 There has been much research conducted on the impact that social media has and continues to have on our mental health.
It is important to understand that there are both good and bad aspects of social media. 
Social media has changed how we communicate with each other as we have access to other at all times. Therefore, our expectations that our messages will be answered almost immediately have changed and these expectations are one of the reasons that keep us on social media. 
Another reason is that we have access to information 24/7, this can make us more hyper-aware of what is happening in the online world, not wanting to miss out (having some Fear Of Missing Out or FOMO) and cause impulse control difficulties.
The more we engage with social media, the more notifications we receive through the day and we want to know who it is, what is said and we don't want to wait, therefore our focus and productivity are negatively impacted.
Social media is also disruptive to our sleep as many of us scroll through multiple platforms when we go to bed, our phones are also generally right next to us so we can immediately reply to others.
So what happens when we receive a notification or message? 
 When our phone 'dings', it triggers a dopamine release in the brain (which feels good and rewarding) which is a pattern that keeps us hooked on our screens and can create an 'addiction' to social media. Basically, when it feels good, we want more.
 When we don't receive 'likes' or comments on what we share, we can have feelings of inadequacy and we can tend to fall into a rabbit hole of overthinking and being rather self-critical.
 It has become incredibly common for people to compare themselves and their lives to what they are seeing on social media. The thoughts in that space are generally that 'everyone else has a good fun happy life and I don't. What happens there is a thought process called 'jumping to conclusions' and it means that assumptions about another person's life have been made based on a photo/video which is not a true representation of their life, it is an edited snapshot of a moment in time.
 The Pros and Cons of Social Media 
Social media has become a significant part of our society however there are some pros and cons: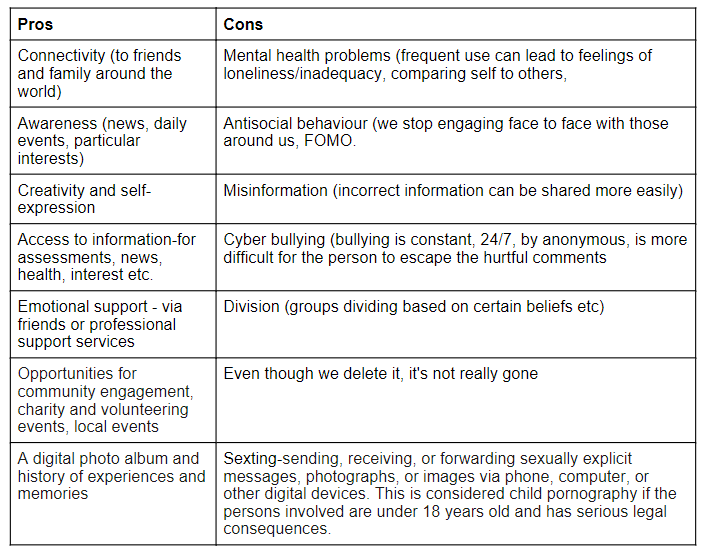 How social media can affect our mental health negatively:
Particular mental health conditions consistent with social media can be 
Depression– is one of the most common mental health difficulties linked with social media. This is due to frequent (over) use of social media, feelings of loneliness, FOMO (Fear Of Missing Out), comparing self to others online, feelings of inadequacy etc. 
Anxiety- there are different types of anxiety with differing symptoms and challenges however social anxiety is the primary type of anxiety linked with social media.
Here we might see the fear of interacting with others or worry about embarrassing ourselves in public, anticipating the worst-case scenario in a social situation, and the fear of judgment from others.
Social media has made it very easy to avoid talking and avoiding people via an online forum which has resulted in our social skills becoming rusty. It is so important to use and practice our social skills in real life to keep them sharp to avoid becoming confused, concerned and struggling to navigate the situation in front of us.
We can also be exposed to things we fear (phobias), news, negative stories/comments etc which can result in some uncomfortable feelings. 
 Dysphoria- When using social media, So many people compare themselves to the others that they are seeing. When we look at advertising, influencers, pictures etc we are believing that these images, lifestyles etc are now society's expectation of optimal happiness, health, beauty, status, lifestyle etc. This can cause dysphoria being an overall dissatisfaction with life as we are not representing those things in our day-to-day life. Body dysphoria can also develop as a result of all these images that we have access to, comparing ourselves and becoming obsessive about trying to achieve a particular goal (that may not be right or healthy for us as a person). Eating disorders can develop causing severe health and psychological problems and in some cases, these conditions can be life-threatening. 
How to try to keep yourself and loved ones safe regarding social media:
Limit your usage: connecting over social media is not the same as spending time with your friends and family. If you can, prioritize connecting in person more often as this boosts our sense of connection. Try to limit being on social media when you are spending time with others, this will be distracting and can be regarded as rude. Try to leave the devices outside the bedroom/off or on silent so that your sleep is not disrupted by notifications coming through.

 

Setting your own 'time out': having a break from social media as a whole helps us to be more present in the moment and experience our lives more. We can communicate this break with family and friends so that they can be supportive, we can also take it one step at a time by reducing a particular amount for the day for one week and then work to increase that time out period.

 

Be reflective: notice (write down) what you are doing on social media, and how it makes you feel (use the wheel of emotions to help). Experiment with how you feel using social media for a small vs large amount of time, is there a time of day you use it and you notice not feeling very good?

 

Use social media mindfully: there are various reasons we use social media, question what your reasons are. For many, social media can be used first thing in the morning and last thing before bed and anywhere in between. Are you using social media with a purpose, or is it a habit, why might it be challenging to log out for a while?

 

Spring clean your social media accounts: unfollow information that is no longer useful, interesting or detrimental to your mental health. This includes people that you may have on your social media however their content triggers or is challenging for you in any way. Only keep friends and content that you want to see and that you feel good about.

Connect with your world in real-time: having experiences with family and friends helps you to feel connected, make great memories and develop an emotional memory of those experiences. Additionally, social skills will pick up and develop more effectively as you are in a space of interacting, navigating conversations, problem-solving and connecting meaningfully. Social media allows us to connect in an alternative manner, however, it is not helping our social skills as a whole as there is that degree of separation.

 
Social media is an amazing tool that we now have to connect more widely with other people, interest groups etc. It helps us to share our lives, see the lives of our friends and family and have access to upcoming events around us among many other things.
Finally, we need to keep in mind the pros and cons of social media and ensure that we are using it safely and teaching those around us how to use it safely.  
'With great power, comes great responsibility.- Spiderman
References
Valkenburg, P. M., Meier, A., & Beyens, I. (2022). Social media use and its impact on adolescent mental health: An umbrella review of the evidence.

Current opinion in psychology

,

44

, 58-68.

 

Kelly, Y., Zilanawala, A., Booker, C., & Sacker, A. (2018). Social media use and adolescent mental health: Findings from the UK Millennium Cohort Study.

EClinicalMedicine

,

6

, 59-68.

 
Author: Aleah Haffenden, B Soc Wk, Grad Cert Suicide Prevention, AMHSW.
Aleah Haffenden is an Accredited Mental Health Social Worker, working primarily with young people (aged 15 and up). She takes a client-focused approach, using a mix of Cognitive Behaviour Therapy (CBT) and Acceptance and Commitment Therapy (ACT), tailored to their specific needs.
Aleah Haffenden is no longer taking bookings. 
To find another clinician try Online Booking. Alternatively, you can call Vision Psychology Wishart on (07) 3088 5422 or M1 Psychology Loganholme on (07) 3067 9129.