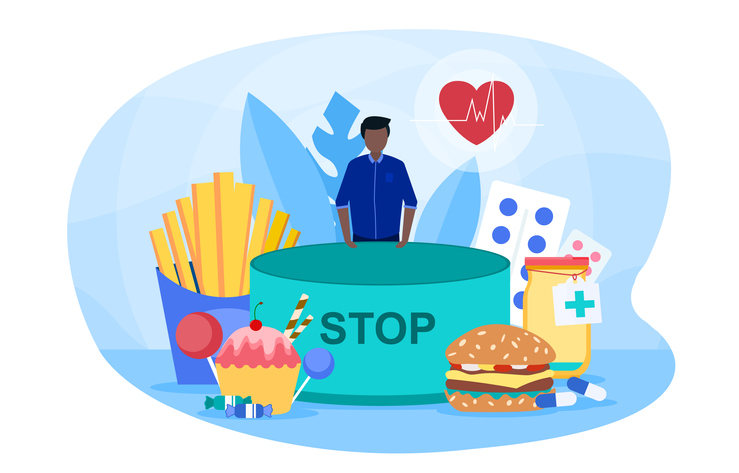 Binge Eating Disorder (BED) is a type of eating disorder characterised by recurrent episodes of binge eating.
A binging eating episode is defined as eating an amount of food that is larger than what most people would eat in a similar period of time whilst feeling a sense of being out of control.
To meet diagnostic criteria (DSM-5) the binge eating episodes occur at least once a week for three months and compensatory behaviours do not occur.
What are compensatory behaviours?
Compensatory behaviours are behaviours that people do in order to attempt to make up for having eaten the calories. There is an attempt to negate feelings of anxiety, shame, guilt or other unpleasant feelings about having consumed the food which is generally seen with those struggling with Bulimia.
Binge eating episodes are associated with three (or more) of the following:
Eating much faster than usual
Eating past the point of fullness
Eating large amounts of food when not feeling hungry
Eating alone / in secret
Feeling 'taken over' or 'driven' as if by another presence in respect of eating
The Function of Binge Eating Disorder
Binges often occur in response to emotions and can be a way of coping with those emotions and/ or underlying personal difficulties. Emotions commonly associated with BED include anxiety, boredom, loneliness etc
Additionally, some individuals can find that BED helps them to function by  numbing their emotions and providing a distraction from their reality and problems and temporarily changes mood.
Binges are followed by feelings of guilt, shame, disgust and depression.
Binge eating can also be triggered by concerns around food, weight and shape.
For example, an individual may binge due to hunger from strict dieting.
Feeling full or breaking a "diet rule" can also lead to a binge.
Eating to regulate emotions
Emotional eating often signifies a psychological drive to change emotional state through excessive eating (and or purging, restraint of food). Therefore in the absence of better coping strategies, eating disordered behaviour becomes adaptive as a way of blocking or regulating authentic emotional experiences.
Eating to regulate emotions which are experienced as 'dangerous'. An emotion becomes dangerous when it leads to negative arousal and may be accompanied by unhelpful self beliefs such as "I am useless".
Signs & Symptoms of Binge Eating
Psychological signs:
Preoccupation with eating, food, body shape and weight
Feelings of extreme distress, sadness, anxiety and guilt during and after a binge episode
Low self-esteem
Increased sensitivity to comments relating to food, weight, body shape and exercise
Depression, anxiety or irritability
Increased sensitivity to comments relating to food, weight, body shape and exercise
Behavioural signs:
Evidence of regular episodes of eating large amounts of food
Secretive behaviour relating to food
Evading questions about eating and weight
Increased isolation and withdrawal from activities previously enjoyed
Erratic behaviour (e.g. shoplifting food or spending large amounts of money on food)
Physical signs:
Changes in weight
Feeling tired and not sleeping well
Feeling bloated or constipated
Physical and Psychological Effects of BED
Binge Eating Disorder often results in weight gain, and many of the physical effects of the disorder are associated with weight gain.
Physical effects associated with BED include:
Weight gain, obesity
High blood pressure, high cholesterol, leading to risk of stroke and/or heart attack
Heart disease
Gallbladder disease
Osteoarthritis
Fatigue and lethargy
Bloating, physical discomfort, heartburn, diarrhoea
Kidney problems, kidney failure
Type 2 diabetes
Poor bone health, joint pain, muscle pain
Skin disorders
Difficulty sleeping, sleep apnoea
Irregular menstrual cycle in females
Fertility issues
Psychological effects associated with BED include:
Anxiety
Depression
Low self esteem, poor body image
Obsessive compulsiveness
Feelings of shame, disgust or guilt, particularly following a binge
Distress at one's over eating behaviours
Social isolation and eating alone to conceal eating habits
Highly sensitive about weight and physical appearance
Suicidal ideations and increased risk of suicide
It is important to note that whilst BED is associated with large quantities of food and weight gain, not all sufferers are overweight and can present within a healthy weight range.
Treatment Options
Evidence based therapies such as Cognitive Behaviour Therapy (CBT), Dialectical Behaviour Therapy (DBT) and Interpersonal Therapy (IPT) are most effective.
CBT interventions involve addressing distorted thinking, self-monitoring of behaviours, exposure experiments and relapse prevention. Additionally, developing interpersonal skills, problem solving skills, emotional regulation and distress tolerance are effective.
For any person with BED, it is important to seek care from an empathetic and skilled GP who can remain involved in your care throughout treatment and can monitor your physical health. Additionally nutrition support with a Dietitian can be beneficial.
Hospital-based treatment may be required if the symptoms are very severe or if there are any medical complications that need immediate treatment.
Author: Aleah Haffenden, B Soc Wk, Grad Cert Suicide Prevention, AMHSW.
Aleah Haffenden is an Accredited Mental Health Social Worker, working primarily with young people (aged 15 and up). She takes a client-focused approach, using a mix of Cognitive Behaviour Therapy (CBT) and Acceptance and Commitment Therapy (ACT), tailored to their specific needs.
Aleah Haffenden is no longer taking bookings. 
To find another clinician try Online Booking. Alternatively, you can call Vision Psychology Wishart on (07) 3088 5422 or M1 Psychology Loganholme on (07) 3067 9129.
References:
American Psychiatric Association. (2013). Diagnostic and statistical manual of mental disorders (5th ed.)