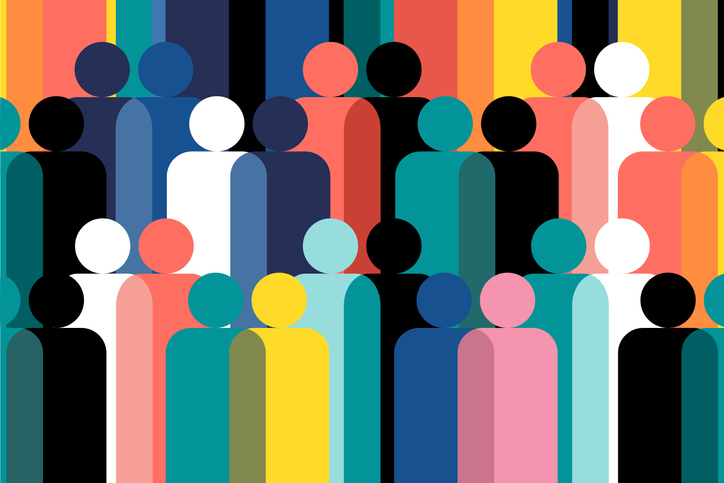 Approximately 3% of the Australian population describe themselves as lesbian, gay or bisexual.
It is estimated that 1.2% of the Australian population identify as transgender.
1.7% of the Australian population have intersex variations.
LGBTQIA+ people aged 16 to 17 are five times more likely than the general population to attempt suicide, over four times more likely to engage in self-harming behaviour, six times more likely to be diagnosed with depression, and three times more likely to experience anxiety.
LGBTQIA+ students often feel unsafe at school and are the victims of harassment and bullying because of their sexual orientation and/or gender identity. Students who experience victimisation are more likely to have poorer mental health outcomes and school attendance difficulties.
In Australia, more than 90% of LGBTQIA+ high school students hear homophobic language at school, one in three are called slurs daily, and 30% have witnessed or been the victim of physical violence targeted towards LGBTQIA+ students.
LGBTQIA+ students who are taught about sexuality and gender diversity issues within the curriculum have better school-based wellbeing than students who attend schools with little inclusion of diversity issues within the curriculum.
Gay-Straight Alliances promote positive school climates for LGBTQIA+ students and are associated with lower amounts of bullying and decreased depressive and anxiety symptoms in LGBTQIA+ adolescents.
Sexuality and gender diversity education should be used as a whole school approach to challenge homophobic and transphobic attitudes… therefore it is CRUCIAL that teachers are always demonstrating and modelling empathy.
Students might approach their sexuality education teacher to discuss their own feelings regarding sexual attraction and/or gender identity. It is important to acknowledge to the student that they have shared something important with you, to stay positive and to keep the conversation confidential.
Ensure students know who they can talk to if they do wish to access support regarding their sexuality and/or gender identity- refer them to the school counsellor/wellbeing leader or provide them with information about external services such as Headspace for mental health assistance or Minus18 for social support.
Ensure a safe space is created for discussions by modelling correct language use and ensuring students do not have to answer questions or contribute to discussions if they feel uncomfortable.
LGBTQIA+ people and topics should also be explored in other areas of the curriculum including English, Humanities, Legal Studies, and History
LGBTQIA+ glossary of common terms
(Taken from the Australian Institute of Family Studies)
Intersex: an umbrella term that refers to individuals who have anatomical, chromosomal, and hormonal characteristics that differ from medical and conventional understanding of male and female bodies.
Cisgender: people whose gender corresponds to what they were assigned at birth.
Gender dysphoria: the distress or unease sometimes experiences from being misgendered and/or when someone's gender and body personally don't feel connected or congruent.
Sistergirl/Brotherboy: terms used for trans people within some Aboriginal or Torres Strait Islander communities.
Bisexual: an individual who is sexually and/or romantically attracted to people of the same gender and people of another gender.
Lesbian: an individual who identifies as a woman and is sexually and/or romantically attracted to other people who identify as women.
Sexual orientation: refers to an individual's sexual and romantic attraction to another person.
Sex: a classification often made at birth as either make or female based on a person's external anatomical characteristics.
Gender: one's sense of whether they are a man, woman, non-binary, agender, genderqueer, genderfluid, or a combination of one or more of these definitions.
Gender expression: refers to how a person chooses to publicly express or present their gender, including behaviour and outward appearance.
AFAB/AMAB: assigned Female/Male at birth
Gay: an individual who identifies as a man and is sexually and/or romantically attracted to other people who identify as men.
Pansexual: an individual who's sexual and/or romantic attraction to others is not restricted by gender.
Heteronormativity: the view that heterosexual relationships are the natural and normal expression of sexual orientation and relationships.
Transgender: umbrella term used to refer to people whose assigned sex at birth does not match their gender identity.
Gender affirmation: the personal process or processes a trans person determines is right for them to live as their defined gender and so society recognizes this. This may involve social, medical and/or legal steps that affirm a person's gender.
Non-binary: an umbrella term for gender identities that sit within, outside of, across or between the spectrum of the male and female binary.
Asexual: a sexual orientation that reflects little to no sexual attraction, either within our outside relationships.
Heterosexual: an individual who is sexually and/or romantically attracted to the opposite gender.
Queer: a term used to describe a range of sexual orientations and gender identities.
Heterosexism: describes a social system that privileges heteronormative beliefs, values and practice.
Author: Abbey Sawyer Sexologist, MAAPi, PostGradDipPsych, BPsychSci, BCrim.
Abbey is a Sexologist who is near completion of her Master of Science in Medicine degree, specialising in psychosexual therapy. Abbey is passionate about the interlink between psychological health and sexuality, and enjoys supporting people of all ages, genders, and cultural backgrounds to enrich their sexual lives and improve their mental health.
To make an appointment try Online Booking. Alternatively, you can call Vision Psychology Wishart on (07) 3088 5422
References
Minus 18. All of us. [Internet] 2016 [cited 2022 May 13]; Available from https://www.minus18.org.au/resources/all-of-us.
Australian Institute of Family Studies. LGBTQIA+ glossary of common terms. [Internet] 2022 [cited 2022 May 13]; Available from https://aifs.gov.au/cfca/publications/lgbtiq-glossary
Wright, MF, Wachs, S, Gamez-Guadix. The role of perceived Gay-Straight alliance social support in the longitudinal association between cyberbullying and LGBTQIA adolescents' depressive and anxiety symptoms. J Youth Adolesc 2022
The Royal Children's Hospital Melbourne. Australian standards of care and treatment guidelines for trans and gender diverse children and adolescents. [Internet] 2020 [cited 2022 May 14]; Available from https://www.rch.org.au/uploadedFiles/Main/Content/adolescent-medicine/australian-standards-of-care-and-treatment-guidelines-for-trans-and-gender-diverse-children-and-adolescents.pdf