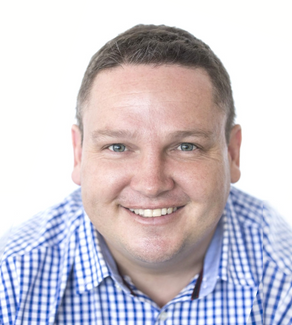 B.SocSci (Psychology & Criminology), B.SocSci (Hons) (Psy)
M.Sc Clin Psychology.
Willem van den Berg is a Psychologist from South Africa, with almost 20 years of experience in providing psychotherapy to a diverse group of clients with a wide range of life challenges.
With a compassionate, positive and non-judgemental approach, he enjoys getting his clients actively engaged in gaining insight into the challenges they experience, as well as to find practical and workable interventions towards an enriched life.
Willem is open to clients aged 16 years and over. He can also see couples and families. To make a booking with Willem van den Berg choose Online Booking or call Vision Psychology Brisbane on (07) 3088 5422, or M1 Psychology Loganholme on (07) 3067 9129.
Using a client-centred approach in providing interventions, Willem tailors the intervention to suit the client's individual style, preferences and circumstances. From within this approach he further draws from a range of evidence-based therapies including:
Clinical Hypnotherapy (Medical Hypno-Analysis);
Cognitive Behavioural Therapy (CBT);
Acceptance and Commitment Therapy (ACT);
Interpersonal Therapy (IPT);
Couples, Marital and Relationship Therapy;
Sex Therapy.
Willem attends to individuals (from adolescence to old age), couples and families, with a range of challenges:
Mood disorders such as Depression and Bipolar Mood Disorder;
Anxiety Disorders, including OCD, Panic Attacks, PTSD and Phobias;
Trauma and Grief;
Anger Management;
Addictions (Alcohol, Substances, Gambling, Pornography etc);
Adjustment Difficulties due to injury, disease, family changes, work, retirement, and migration;
Sexual Disorders (Erectile Dysfunction, Sexual Aversion, Sexual Arousal Disorders, Orgasmic Disorders and Premature Ejaculation, Sexual Pain Disorders);
Somatoform Disorders and Chronic Pain Management;
Self-Harming Behaviour;
Suicide Ideation;
Stress Management, Burnout and Chronic Fatigue Syndrome;
Self-worth, self-esteem and confidence in self;
Self-judgement, -criticism and perfectionism;
Couples and Marriage Therapy
In addition to the above, Willem has a special interest in Couples and Marriage Therapy, dealing with a wide range of challenges, including:
Communication and Conflict Resolution;
Betrayal, Trust and Insecurities;
Sexual challenges;
Separation, Divorce and Reconciliation;
"My kids, Your kids and Our kids";
"Fair Fighting";
Domestic Violence;
"Fly In, Fly Out" Relationships.
Career and Workplace Challenges
Willem further provides psychological interventions for Employee Assistance Programmes and Work Cover, addressing the following:
Conflict Resolution, Bullying, Resilience and Problem Solving;
Motivation, Goal setting;
Productivity and Performance;
Stress Management, Burnout, Chronic Fatigue;
Redundancy;
Commitment and Engagement.
Willem van den Berg is sensitive to the cultural and religious backgrounds of his clients. He is mindful of the role their cultural and religious beliefs could play in the challenges they experience, as well as in the treatment of these challenges.
Willem is fluent in English and Afrikaans.
To make an appointment try Online Booking. Alternatively, you can call Vision Psychology Brisbane on (07) 3088 5422 or M1 Psychology Loganholme on (07) 3067 9129.
Articles of Interest by Psychologist Willem van den Berg: